Complaint Review:

JUDGE ROBERT C. JONES & UNITED STATES DISTRICT COURT OF NEVADA
JUDGE ROBERT C. JONES & UNITED STATES DISTRICT COURT OF NEVADA

400 S Virginia St # 301

Reno, Nevada

United States of America
JUDGE ROBERT C. JONES & UNITED STATES DISTRICT COURT OF NEVADA JUDGE ROBERT C. JONES Nevada HOA Fraud, Nevada Homeowner Association Fraud, Deprivation of Property Without Due Process or Oral Argument, Refusal to Notify of Case Hearings & Filings, Kent Dawson, HOA Attorney Gayle A. Ker Reno, Nevada
*Consumer Comment: Sheryl,
*Consumer Comment: Sheryl,
*Consumer Comment: Sheryl,
*Author of original report: Embezzlers, Thieves & Thugs - Robert C. Jones is YOUR Judge!
*Consumer Comment: Sheryl,
*Consumer Comment: Sheryl,
*Consumer Comment: Sheryl,
*Consumer Comment: Sheryl,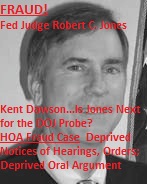 Does your business have a bad reputation?
Fix it the right way.
Corporate Advocacy Program™
JUDGE ROBERT C. JONES IS A FRAUD AND NEEDS TO BE INVESTIGATED NEXT BY FBI & JUSTICE DEPARTMENT'S PUBLIC INTEGRITY SECTION

NEVADA HOMEOWNER ASSOCIATION (HOA) FRAUD & FEDERAL JUDGES

UNITED STATES DISTRICT COURT JUDGE KENT DAWSON

Investigated by FBI & DOJ Public Integrity Section during the massive Nevada homeowner association HOA fraud scheme when he "conveniently" retired. Dawsons son was suspect in the Las Vegas HOA fraud case investigated by FBI.

http://www.lvrj.com/news/prosecutors-seek-more-time-to-investigate-potential-conflict-with-judge-in-davidovici-case-161159575.html
http://www.lvrj.com/news/something-seems-out-of-focus-in-sentencing-161891315.html
http://thomas.loc.gov/cgi-bin/query/z?r112:S19SE2-0086

UNITED STATES DISTRICT COURT ROBERT C. [continued below]....
..... JONES
Jones "hijacked" HOAs cases from other federal judges, including the massive Nevada 500 HOA case http://www.scribd.com/doc/99045327/7-29-11-USA-v-HOAs-Cmplt-Amd
Jones also "hijacked" now retired Judge Kent Dawson's case. Jones has hijacked countless HOA cases, depriving homeowners of due process and property.
Jones hijacked my own HOA cases from other judges with the sole intent of wrongfully dismissing them without any due process, without any oral arguments, and without notices of hearings and orders.
Due to Jones' deprivation of honest services, and deprivation of due process (oral argument), deprivation of notice of hearings and orders - entry of default was entered against me.
JUDGE ROBERT C. JONES IS A BLATANT FRAUD & HIS JUDGMENTS ARE VOID.
I am sure the DOJ Public Integrity Section will catch up to him someday; hopefully, before too many more homeowners, investors, and other victims are defrauded, too.
FBI INVESTIGATES MASSIVE NEVADA HOA FRAUD
http://www.justice.gov/opa/pr/2011/September/11-crm-1141.html
http://www.lvrj.com/news/organized-crime-in-las-vegas-takes-on-a-new-look-156639725.html
http://www.lvrj.com/news/hoa-conspiracy-pleas-set-for-this-week-154984395.html
http://www.lvrj.com/news/ex-police-captain-to-plead-guilty-in-homeowners-association-probe-153201385.html9Respondent
NEVADA HOA FRAUD SUICIDES OF FOUR FEDERAL WITNESSES DURING FBI INVESTIGATION (MAFIA INVOLVEMENT?)
2 Attorneys, 1 Ex-Deputy Sheriff, 1 Ex-HOA Board Directed All Committed Suicide
http://abcnews.go.com/Business/attorneys-nevada-homeowners-association-scandal-dead/story?id=16013470http://www.lvrj.com/news/attorney-involved-in-homeowners-associations-probe-found-dead-144258055.html11 http://www.dailymail.co.uk/news/article-2121625/HOA-scandal-FOUR-commit-suicide-probe-Nevada-homeowners-association-fraud.html
NEVADA POLICE CORRUPTION
Nevada Homeowner Whistleblowers Falsely Arrested
http://www.lasvegassun.com/news/2012/mar/30/dont-question-your-hoa-or-you-might-get-arrested
Youtube Video http://www.youtube.com/watch?v=iSigjGVu_ac
Nevada (Sparks Police) out of jurisdiction, threatening Lakeside Plaza homeowner with felony arrest for coming forward as HOA fraudulent foreclosure/embezzlement whistleblower. Investigation of Lakeside Plaza Condominium Association, Reno, Nevada embezzlement (Washoe County District Attorney #406539, Reno Police Dept. #08-031672).
500 HOAs are now being sued by the Justice Department
http://www.scribd.com/doc/99045327/7-29-11-USA-v-HOAs-Cmplt-AmdMy Supreme Court brief which summarizes this information:
http://www.scribd.com/doc/101890601/6-5-12-SCOTUS-WOC-Lakeside-Plaza-HOA-Reno-Nevada
PETITION CONGRESS STOP NEVADAS CORRUPTION, STOP STEALING THE AMERICAN DREAM OF HOMEOWNERSHIP!
Due to Nevada HOA fraud and corruption, Americans are losing their rights, their homes, their American Dreams! Please sign my petition and demand that Congress protect homeowners from fraud!
http://www.change.org/petitions/state-of-emergency-stop-foreclosure-fraud-by-homeowners-associations
Thank you,
Sherry M
NONE OF THE INFORMATION CONTAINED HEREIN IS TO BE CONSTRUED AS LEGAL ADVICE. IF YOU SEEK LEGAL ADVICE, PLEASE CONSULT WITH A LICENSED ATTORNEY.
Click Here to read other Ripoff Reports on JUDGE ROBERT C. JONES & UNITED STATES DISTRICT COURT OF NEVADA
Search for additional reports
If you would like to see more Rip-off Reports on this company/individual, search here:
Search Tips
Advertisers above have met our
strict standards for business conduct.