Complaint Review:

Jennifer Herbers
Jennifer Herbers

14007 twin lakes

Sugar Land, Texas

United States of America
Jennifer Herbers fallinstarlei@yahoo.com, Jenifer Herbers, Jennifer Herbet, mswiss91@yahoo.com, pandaramzi@yahoo.com. Hayley, Swiss Miss, The Haven Jennifer Herbers sounds, on the phone, like a lovely, nice young girl. I sent her $1200 for what was supposed to be 3 gorgeous purebred bengals that were supposedly "very" pregnant. When I met her to Sugar Land, Texas
*Consumer Comment: Panzer, Panda Shepherd
*REBUTTAL Owner of company: GSD
*Consumer Comment: Panda puppy
*UPDATE EX-employee responds: Jane
*Consumer Comment: Clutchless
*Consumer Comment: md Fort Worth Texas
*Consumer Comment: md Fort Worth Texas
*Consumer Comment: Pandas
*Consumer Comment: Panda Shepherd
*Consumer Comment: Dogs and Cats
*UPDATE EX-employee responds: To Jane
*Consumer Comment: To Clutchless
*Consumer Comment: To Abigail
*UPDATE EX-employee responds: You don't know the half of it.
*Consumer Comment: everyone is right about her
*Consumer Comment: Be careful
*Consumer Comment: Jennefir Did Business with Me Perfectly
*Consumer Comment: She also scams with german shepherds
*Consumer Comment: Also Scammed by Amber/ Jenifer Herbers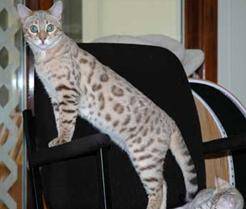 ←
Is this
Ripoff Report
About you?
Ripoff Report
A business' first
line of defense
on the Internet.
If your business is
willing to make a
commitment to
customer satisfaction
Click here now..
Does your business have a bad reputation?
Fix it the right way.
Corporate Advocacy Program™
Jennifer Herbers sounds, on the phone, like a lovely, nice young girl. I sent her $1200 for what was supposed to be 3 gorgeous purebred bengals that were supposedly "very" pregnant. When I met her to get the cats, they were not even REMOTELY close to the photographs she sent, and they were NOT PREGNANT. They were emaciated, sickly, extremely thin and had severe upper respiratory infections. I had to spend $500 at the vet (now I am out $1700 for ugly, sick cats), for cats I did not pay for nor want. She REFUSED upon meeting, to give me my money back for the cats... She said they didn't look like the pictures because they were 'out of coat'.... and I found one of the pictures of the cats at a different breeders website! She had STOLEN beautiful pictures of bengals and claimed those were the ones she was selling! I called the original breeder the cats came from and he said she had paid him money for several cats a few years back, and then called him back and said they all died!!! So he returned her money in good faith! Jennifer always has a new email address, she is extremely unethical, dishonest and an absolute LIAR with no sense of right and wrong!!!! BUYER BEWARE! Jennifer. [continued below]....
....... what goes around, comes around!!! Phone number I have: (832)364-4320
Click Here to read other Ripoff Reports on Jennifer Herbers
Search for additional reports
If you would like to see more Rip-off Reports on this company/individual, search here:
Search Tips

Advertisers above have met our
strict standards for business conduct.