Complaint Review:

Little Italy Cafe of 46 Main St Peabody, MA 01960 owner is a long time con artist using false identity
Little Italy Cafe of 46 Main St Peabody, MA 01960 owner is a long time con artist using false identity

46 Main St

Internet

United States of America
Little Italy Cafe of 46 Main St Peabody, MA 01960 owner is a long time con artist using false identity Roger Williamson, Roger Paradiso, Mark R. Willis, Canosa Catering, My 3 Son's Productions, Premier Caterers, best caterers of boston, Sharon Rogers Food, READ ALL REVIEWS FOR THESE SCAM COMPANIES Roger Williamson is trying to sell his new business under false pretenses and false appraisals. Internet
*General Comment: tracking Rodger Williamson....aka GEORGE
*Author of original report: Roger Williamson now Running a New SCAM catering business again, Goombas Ristorante Italiano of Saugus / Peabody Massachusetts
*General Comment: Everything the oriiginal author says is completely 1 million percent correct!
*REBUTTAL Individual responds: williamson
*Consumer Comment: He strikes again
*General Comment: Roger look me up
*REBUTTAL Owner of company: Hello......Roger Williamson
*Consumer Comment: Roger Williamson, Roger Paradiso, Roger Williams, Mark Willis loves Sharon Meehan!
*Consumer Comment: He really is a fake and a phoney!!! he is Evil Evil EVIL!!!!!!!!!!!
*Consumer Comment: KRYSTAL is at it AGAIN
*Consumer Comment: YOU ARE A LIAR IN HIDING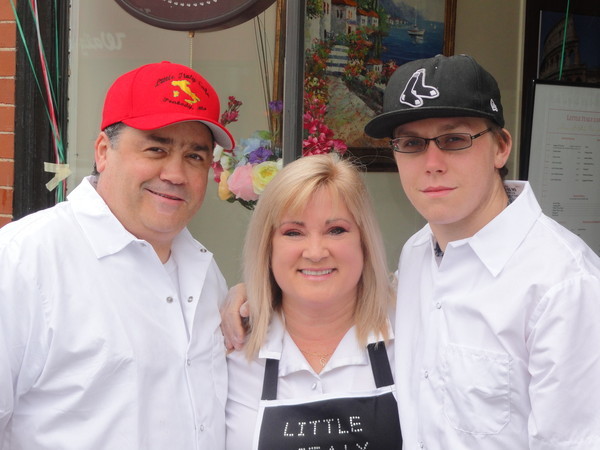 Does your business have a bad reputation?
Fix it the right way.
Corporate Advocacy Program™
If you are reading this, I hope you have found it before it is too late. Roger Williamson, recently going by the identity of Roger Paradiso is attempting to sell the business Little Italy Cafe 46 Main St Peabody, MA 01960 (978) 587-3352 to an innocent person under a false name and with false appraisals.

This man has a long history of being a scam artist. I know this all too well. Please search here on "ripoffreport.com" for the name " Roger Williamson " as that is this mans real name. You will see pictures etc. to verify that this is the man.

As soon as this information had come into possession I have felt very responsible to post this. Hopefully any person that is in talks with this individual will google the restaurant name and find this information before losing their hard earned money. This man has hurt countless women and will continue to take advantage of others. I have personally had my own experiences with him.

Please, I hope this information finds you well! If you search on the Peabody Patch website, you will find pictures from the ribbon cutting ceremony from when this Little Italy Cafe of 46 main street first opened. You will see pictures of this man whose real identity is Roger Williamson. And he lists himself as Roger Paradiso.

His contact # is 617-816-3838 and if you google this phone #, you will find his many listings on various internet sites claiming poor health and needing to sell this business doing over $4500K in sales a week. Appraisals of $100K on this business.

He has absolutely not paperwork of this. At least none authentic, I guarantee that. This man has a long history of being a scam artist. PLEASE be on ALERT and add any information to this report that you may have for others to be warned.

Thank You
Click Here to read other Ripoff Reports on Little Italy Cafe of 46 Main St Peabody, MA 01960 owner is a long time con artist using false identity
Search for additional reports
If you would like to see more Rip-off Reports on this company/individual, search here:
Search Tips