Complaint Review:

RockBottomLasers.com
RockBottomLasers.com

2942 N 24th St. Ste. 114

Phoenix, Arizona

USA
RockBottomLasers.com Vin Wells About RockBottomLasers.com! BEWARE: This is information to avoid the company found at RockBottomLasers.com. This company is a true scamming business, this is how they work: After accepting Your offer, they will present and update shipping information via a fake website. Immediately requesting payment transfer including payment details. As soon as the amount is received the money is utilized by the account holder. They will deny all knowledge about this transaction afterwards. Several buyers can confirm this. Names used are Vin Wells etc. Contact names sems changing all the time; like several others experience: the company will present shipping confirmation via a fake website and then request payment. No products will show up and the company will deny payment confirmation, even though the bank can confirm the amount has been credtied to the company's accunt. Warning! Please feel free to update us via ripoffreport.com if You have any experience from this. Phoenix Arizona
*REBUTTAL Owner of company: www.BelsonBioMedical.com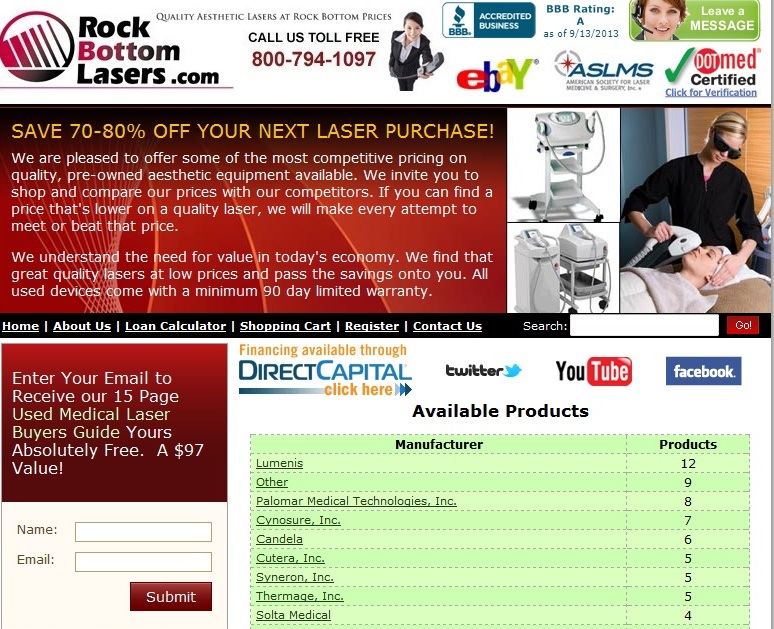 ←
Is this
Ripoff Report
About you?
Ripoff Report
A business' first
line of defense
on the Internet.
If your business is
willing to make a
commitment to
customer satisfaction
Click here now..
Does your business have a bad reputation?
Fix it the right way.
Corporate Advocacy Program™
About RockBottomLasers.com!

BEWARE: This is information to avoid the company found at RockBottomLasers.com.

This company is a true scamming business, this is how they work:

After accepting Your offer, they will present and update shipping information via a fake website. Immediately requesting payment transfer including payment details. As soon as the amount is received the money is utilized by the account holder. They will deny all knowledge about this transaction afterwards. Several buyers can confirm this.

Names used are Vin Wells etc.
Contact names sems changing all the time; like several others experience: the company will present shipping confirmation via a fake website and then request payment. No products will show up and the company will deny payment confirmation, even though the bank can confirm the amount has been credtied to the company's accunt. Warning! The company is under investigation from FBI and Interpol.

Please feel free to update us via ripoffreport.com if You have any experience from this.
Click Here to read other Ripoff Reports on RockBottomLasers.com
Search for additional reports
If you would like to see more Rip-off Reports on this company/individual, search here:
Search Tips

Advertisers above have met our
strict standards for business conduct.