Complaint Review:

Stephen A Charles
Stephen A Charles

Ajax, Ontario

United States of America

Phone: 647-505-4431
Category: Liars
Stephen A Charles Scam artest Active Toronto ponzi scheme Ajax, Ontario
*REBUTTAL Owner of company: He scam me too
*General Comment: OWES ME MONEY TOO
*Author of original report: This has been delt with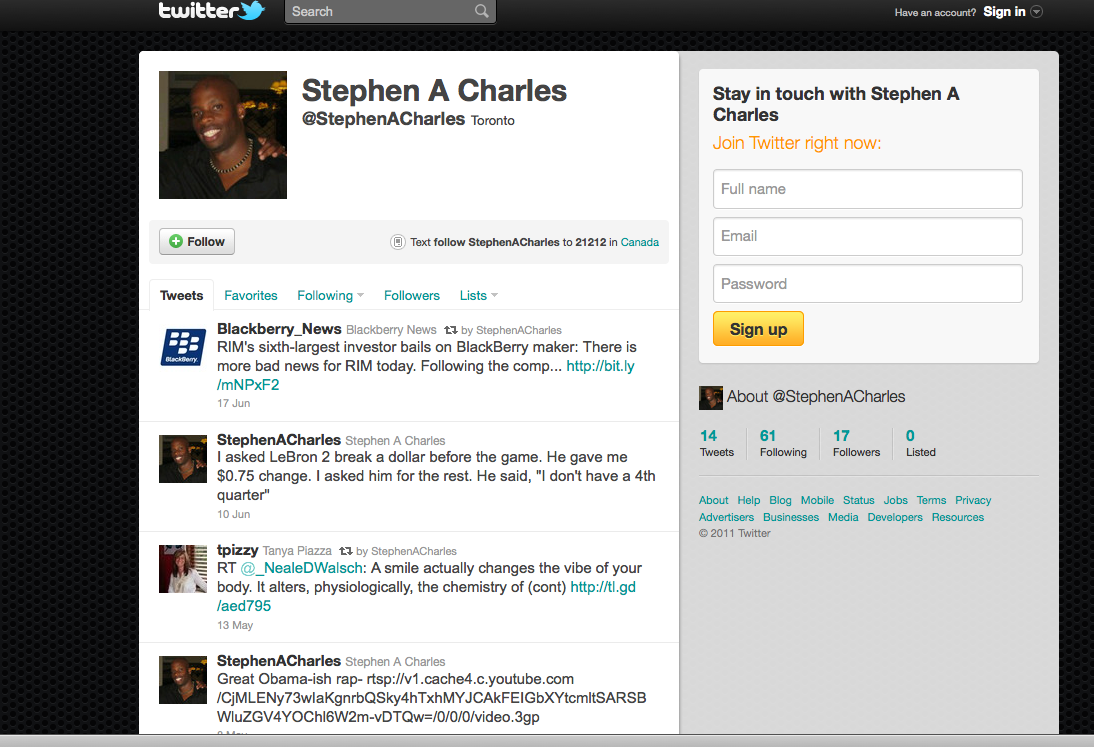 ←
Is this
Ripoff Report
About you?
Ripoff Report
A business' first
line of defense
on the Internet.
If your business is
willing to make a
commitment to
customer satisfaction
Click here now..
Does your business have a bad reputation?
Fix it the right way.
Corporate Advocacy Program™
I am looking for others that were ripped off by Stephen A Charles of Ajax. I worked at the same company as him and he promised a return if I invested with him he ended up stealing $1000 of my money and also attempted to scam money from many of my coworkers.

I am willing to bet he jumps from company to company doing this all text messages are listed below. Long story short the money was never paid back and I want justice.
I am working with authorities and I want to make sure he does not do this to
anyone else

Where Do you want to meet Hey - crossing border. Call you in a few. Cool man just heading downtown then back west let me know where and when yawanna meat

Meet Never heard from you man? I have to go to Barrie now I can pass by on my way

I didn't make it back. You'll have to see me on your way back.

? What happened

01/02:Feel like I didn't respond to your last message. [continued below]....
..... ???? He was

delayed. I'll be good late tonight. As soon as I am, I'll call you? What time's too late?

You

02/02: around? Peace.

I spent the day moving furniture and I will be in Barrie until Tomorrow wanna meet Tomorrow after 6pm

Sure. Are you not working tomorrow? Furniture, you are probably wiped! Lol!!!

I have 3 appointments Tomorow and a conference call after that I am free I can swing by your place If that's easy for you.

what time can you meet today?

01/02:Hey - you're like Herpes.....always there. Lol!! I'm gonna email you this $ as soon as I can this afternoon. Easier and immediate.

I'll call you after 430

02/02:. A little tied up till then. Then I'll tell you how (((REDACTED FOUL LANGUAGE)))
and sent Mike an email I should have never sent him.

I would not know what herpes are like but thanks for sharing. Email limits $1000 per 48 HR period better in person.

Naw........once I'm good, I'll send it from 2 different accounts. I'll call you after 4:30.
plus ing can't accept email money transfers because it's not part of the interac network what's the issue with meeting for 20 min ?

Now that's a different story. Call you after 4:30 Eastern. you blew it all at a poker game didn't you lol

Dude - 4:30. Lol. I don't play cards. LMAO! what happened to 430

got your message I am commuting from Barrie now so it works best if we can just arrange a time and a place after 5 this week. I don't care what day.

where do you wanna meet I am in the west end until late tonight.

I just spent cash on my car I did not have and I have a designer that has to be
paid so I'd like to get this done this week

Call me back. 647 299 4835

Yo. Call me. I'm in range. Won't be for long. Driving back. Holler

where are you at I can come meet you now

where are you going to be around 3:30?

Barrie area. Call you at 3 sharp. Peace

are you golfing out there ?

Barrie area is a little vague.

Yeah.....but I'll know if I'll be at the course or at a restaurant shortly.Hang tight. That's why I said 3 sharp. (((REDACTED FOUL LANGUAGE)))

I have heard this story before from you just give me back the grand that you
took and we can be done with it

2 weeks worth of I will call you back oh let's meet for lunch this is complete
bullshit man.

02/03:and I'm not working....and you send me this message. (((REDACTED FOUL LANGUAGE))) I saw your email last night. I'll send it, all of it, that way.

No problem. Have a

01/03:What story? Are you kidding me? So you can continue bad mouthing me? (((REDACTED FOUL LANGUAGE))) If you had a clue! Its costing ME $ short
term to pay you now.....

03/03:great one.

I don't want it all just the $1000 that's it. how am I bad mouthing you Steve you are not being strait with me and you know that if could commit to a time and a place fine but I'm getting the run around so don't tell me to go f**k myself when you are the one that's telling me a different story every time I talk to you. I have been more then patent and reasonable.

It's evidently clear that you have no intention of paying this moneyback rest assured that this matter will not go away and at this point It's considered fraud. Appropriate measures will be taken unless the $1000 you took from me is paid in full by 5pm today all conversations have been backed up as evidence and the blocked number you called me from has been traced along with your IP address. Also let it be known that I will not respond to any threats or intimidation tactics, or foul language. I know you think once the Active cell you have is returned that you will not have to worry about paying me. It's unfortunate that it has come to this but you leave me no choice. I will not respond to any phone calls from you or anyone you are associated with all phone calls/texts from any unknown numbers will be recorded.

01/02:What? Call me. I'm with my football kids. So far from the case. You are so extreme. The 'Private #' is the same cell. I have no issue . But, when

02/02:you push, I push back too. Call me. I was in late last nite. So too late
to call. That's it, that's all. Have a good one.

Oh, and if you'd like my home # and address, I'll send it for you. Not hiding
Brother. Not hiding at all.



From: "Stephen Charles

" <stephen_charles+++++++++++>

Date: June 29, 2011 8:53:19 PM EDT

To: "+++++++++++ " <+++++++++++>

Subject: Re: What the hell was that about

(((REDACTED FOUL LANGUAGE)))

I'll call you in less than 30


-----Original Message-----

From: +++++++++++ <+++++++++++>

Date: Thu, 30 Jun 2011 00:36:42

To: <stephen_charles+++++++++++>


Subject: What the hell was that about

You told me it was settled over the weekend and every time I try to set something up with you I get the I'll call you back in an hour storyand you can't confirm a time and a place to meet weather that then you freakout at me because I sent you an email.

I offered to meet you where-ever I don't care. and you can't let me know a day and a place when you are available. I don't make a lot but I work my(((REDACTED FOUL LANGUAGE))) dollar and I am chasing commissions from Active which I expect but I don't expect this from a friend.

Put yourself in my shoes what would you think at this point.after someone has told you something was settled and now youtell me it isn't and that you will call me when it is and hang up the phone.

Sent from my iPhone

From: "Stephen Charles

" <stephen_charles+++++++++++>

Date: June 29, 2011 8:53:19 PM EDT

To: "+++++++++++ " <+++++++++++>

Subject: Re: What the hell was that about

(((REDACTED FOUL LANGUAGE)))

I'll call you in less than 30

-----Original Message-----

From: +++++++++++ <+++++++++++>


Date: Thu, 30 Jun 2011 00:36:42

To: <stephen_charles+++++++++++>

Subject: What the hell was that about


You told me it was settled over the weekend and every time Itry to set something up with you I get the I'll call you back in an hour story and you can't confirm a time and a place to meet weather that then you freak out at me because I sent you an email.

I offered to meet you where-ever I don't care.

and you can't let me know a day and a place when you are available.

I don't make a lot but I work my (((REDACTED FOUL LANGUAGE))) dollar and I am chasing commissions from Active which I expect but I don'texpect this from a friend.

Put yourself in my shoes what would you think at this point.after someone has told you something was settled and now you tell me it isn't and that you will call me when it is and hang up the phone.

Sent from my iPhone

From: "Stephen Charles

" <stephen_charles+++++++++++>

Date: June 23, 2011 11:25:20 AM EDT

To: "+++++++++++ " <+++++++++++>

Subject: Re: What time and where are we meeting tonight?

Lol. Yes, you have my number.

Same cell # Bro!

Thought you said you were busy till 9 tonight and you were good prior to Sunday?
Call you after 1.

SC


-----Original Message-----

From: +++++++++++ <+++++++++++>

Date: Thu, 23 Jun 2011 15:21:35

To: <stephen_charles+++++++++++>

Subject: Re: What time and where are we meeting tonight?

I don't have your number man name a time and a place tonight I will be there.

Sent from my iPhone

On 2011-06-22, at 5:31 PM, "Stephen Charles "

<stephen_charles+++++++++++> wrote:

On Active - dead.

I have a job interview tomorrow.

Call me after your class tonight. We'll figure something out.

-----Original Message-----

From: +++++++++++ <+++++++++++>

Date: Wed, 22 Jun 2011 21:29:00

To: <stephen_charles+++++++++++>

Subject: Re: What time and where are we meeting tonight?

I have a kbell class tonight and a networking function Tomorrow from 7:30 to 9 but I thought it was tonight as long as we get something in the calendar before Sunday that's good with me.

Wanna do lunch Tomorrow ?

on Active.

Sent from my iPhone

On 2011-06-22, at 5:14 PM, "Stephen Charles "

<stephen_charles+++++++++++> wrote:


I didn't say / know we were meeting tonight?!? It was supposed to be tomorrow. I have a dinner tonight.

I still have the Active cell for now.

SC

-----Original Message-----

From: +++++++++++ <+++++++++++>

Date: Wed, 22 Jun 2011 19:18:13

To: <stephen_charles+++++++++++>

Subject: What time and where are we meeting tonight?

I have a class from 6:30 till 7:30 in Mississauga I can meet after that just let me know. I also need your cell I only have the Active one.

Sent from my iPhone

From: "Stephen Charles

" <stephen_charles+++++++++++>

Date: June 23, 2011 11:25:20 AM EDT

To: "+++++++++++ " <+++++++++++>

Subject: Re: What time and where are we meeting tonight?

Lol. Yes, you have my number.Same cell # Bro!


Thought you said you were busy till 9 tonight and you were good prior to Sunday?

Call you after 1.

SC


-----Original Message-----

From: +++++++++++ <+++++++++++>

Date: Thu, 23 Jun 2011 15:21:35

To: <stephen_charles+++++++++++>

Subject: Re: What time and where are we meeting tonight?

I don't have your number man name a time and a place tonight I will be there.

Sent from my iPhone

On 2011-06-22, at 5:31 PM, "Stephen Charles "

<stephen_charles+++++++++++> wrote:

On Active - dead.

I have a job interview tomorrow. Call me after your class tonight. We'll figure something out.

-----Original Message-----

From: +++++++++++ <+++++++++++>

Date: Wed, 22 Jun 2011 21:29:00
To: <stephen_charles+++++++++++>
Subject: Re: What time and where are we meeting tonight?

I have a kbell class tonight and a networking function Tomorrow from 7:30 to 9 but I thought it was tonight as long as we get something in the calendar before Sunday that's good with me.

Wanna do lunch Tomorrow ?
on Active.

Sent from my iPhone

On 2011-06-22, at 5:14 PM, "Stephen Charles "

<stephen_charles+++++++++++> wrote:


I didn't say / know we were meeting tonight?!? It was supposed to be tomorrow. I have a dinner tonight.

I still have the Active cell for now.

SC


-----Original Message-----

From: +++++++++++ <+++++++++++>

Date: Wed, 22 Jun 2011 19:18:13

To: <stephen_charles+++++++++++>


Subject: What time and where are we meeting tonight?


I have a class from 6:30 till 7:30 in Mississauga I can meet after that just let me know.

I also need your cell I only have the Active one.

Sent from my iPhone


From: "Stephen Charles

" <stephen_charles+++++++++++>

Date: June 22, 2011 5:31:44 PM EDT

To: "+++++++++++ " <+++++++++++>

Subject: Re: What time and where are we meeting tonight?

On Active - dead.


I have a job interview tomorrow. Call me after your class tonight. We'll figure something out.


-----Original Message-----



From: +++++++++++ <+++++++++++>


Date: Wed, 22 Jun 2011 21:29:00


To: <stephen_charles+++++++++++>


Subject: Re: What time and where are we meeting tonight?


I have a kbell class tonight and a networking function Tomorrow from 7:30 to 9 but I thought it was tonight as long as we get something in the calendar before Sunday that's good with me.

Wanna do lunch Tomorrow ?

on Active.

Sent from my iPhone


On 2011-06-22, at 5:14 PM, "Stephen Charles "

<stephen_charles+++++++++++> wrote:

I didn't say / know we were meeting tonight?!? It was supposed to be tomorrow. I have a dinner tonight.

I still have the Active cell for now.

r
Click Here to read other Ripoff Reports on Stephen A Charles
Search for additional reports
If you would like to see more Rip-off Reports on this company/individual, search here:
Search Tips