Complaint Review:

Terry Moving and Storage TRUSTED MOVERS | Ripoff Report Verified Safe™ …businesses you can trust. Terry Moving & Storage offering impeccable customer service with free no obligation estimate. Terry Moving & Storage Inc trucks ready for local moving, crating & packing services all around Orange County California. Terry Moving and Storage has every moving detail covered, providing much needed long distance moving services across the Western United States. Ripoff Report Verified Safe™
Terry Moving and Storage TRUSTED MOVERS | Ripoff Report Verified Safe™ …businesses you can trust. Terry Moving & Storage offering impeccable customer service with free no obligation estimate. Terry Moving & Storage Inc trucks ready for local moving, crating & packing services all around Orange County California. Terry Moving and Storage has every moving detail covered, providing much needed long distance moving services across the Western United States. Ripoff Report Verified Safe™

25958 Commercentre Drive Lake Forest, California 9

Nationwide

United States of America
Terry Moving and Storage TRUSTED MOVERS REVIEW: Terry Moving and Storage Inc. Safe, secure storage for long & short term where security is at the heart of everything. Safety, flat rates, & overall customer service is Terry Moving & Storage's everyday practice. Commitment to Ripoff Report Corporate Advocacy Business Remediation & Customer Satisfaction Program, a program benefiting consumers, ensuring complete satisfaction & confidence when doing business.

---

*UPDATE: Terry Moving and Storage Inc. recognized by Ripoff Report Verified™ as a safe business service.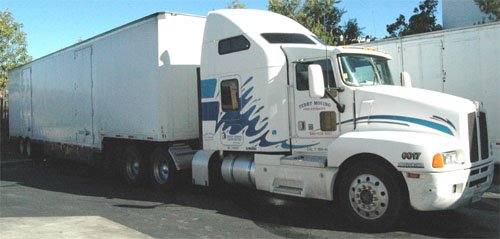 ←
Is this
Ripoff Report
About you?
Ripoff Report
A business' first
line of defense
on the Internet.
If your business is
willing to make a
commitment to
customer satisfaction
Click here now..
Does your business have a bad reputation?
Fix it the right way.
Corporate Advocacy Program™
Ripoff Report Verified™ REVIEW:
EDitor's UPDATE: Positive rating and recognition has been given to
Terry Moving and Storage Inc.
for its commitment to excellence in customer service.
Ripoff Report's discussions with Terry Moving and Storage Inc. have uncovered an ongoing dedication by the company to total client satisfaction. This means that clients can expect that the company will work towards finding a mutually satisfactory resolution to any concerns. Terry Moving and Storage Inc. listens carefully to client concerns and sees them as an opportunity to learn from past mistakes and become more efficient as a company in the services offered and the support for those services.
Terry Moving and Storage Inc.'s principal take your move date very serious. "Once we take a deposit we will be there on the day we agree too. [continued below]....
..... In the moving and storage business, it has been part of our practice to confirm our moves the week before. Terry Moving and Storage is fully aware that Escrows can delay, contractors can delay or any gambit of reasons can happen. So we call ahead to make sure your date is still firm and if need be are flexible as delays can and will happen. Terry Moving and storage inc feels being flexible when a customer cannot control a delay, is another measure of customer service that really means alot when that sort of thing happens. As always customer service and kind understanding in the face of diversity is something all to important during a stressful time of moving. Terry Moving and Storage and I Mark Terry, really want to be there for our customers."
Ripoff Report Verified™ .. part of Ripoff Report Corporate Advocacy Business Remediation & Customer Satisfaction Program.
A program that benefits the consumer, assures them of complete satisfaction and confidence when doing business with a member business..
The information provided in this report below is based on comments made by Mark Terry during an onsite inspection held by a third party verification company with no biases toward Terry Moving and Storage.
Terry Moving and Storage is a full service moving and storage company that, "customizes to each particular clients specific needs and situation. Our goal is to provide a service that people are confident in referring to others."
Their client base is developed through several different venues, "we market in various ways: direct mail, pay per click, mailers, and seo internet. Since we are direct to consumer company they speak to us directly and not a broker. The level of service and attention they receive is personal, warm, and friendly while being professional." Once the initial contact is made Terry Moving and Storage makes sure that each client has their own personalized experience, "once a customer calls and we discuss their particular needs, we then cover the process from a to z. We set up an appointment to do a walkthrough so that an accurate estimate can be given with confidence that it is a number we will stand behind."
Terry Moving and Storage Inc. Customer Care & Complaint Resolution
During the onsite interview, Mark Terry was asked to describe a situation where a customer was not satisfied with the level of service they received. Mr. Terry informed us of a customer who was upset because after using his services she discovered one of her valuable bottles of olive oil was missing. In order to resolve said issue Mr. Terry stated, "we sent her a generous cash amount to replace her loss. She was very appreciative and happy. She changed a low rating to a very high rating on another website commending and recommending us." He also assured us that, "whenever we had any situations where a client is not fully happy we do whatever it takes within reason to resolve the issue and ensure a satisfied outcome."
When asked to comment on complaints posted on Ripoff Report's website Mr. Terry went on to encourage future clientele, "we take pride in our business and how we do it. Our clients can be assured that we take great care of their belongings with the utmost professionalism and care. We stand by our initial price disclosed up front. If there is any changes or additional services that require an amendment to the initial price, it is fully disclosed, agreed upon in writing, and we move forward from there." Mr. Terry also informed us of accreditations that Terry Moving and Storage has obtained, "we have various designations with a variety of consumer advocacy groups including: BBB. Also, our website and other marketing platforms have actual video of our facility here in lake forest. We invite anyone to come by, say hello, and see for themselves."
When asked what type of changes they have made to honor their commitment to make things right with the customer per the request of Ripoff Report, Mr. Terry stated, "we are a very proud company and take pride in what we stand for and the services we provide. We invite the opportunity to resolve any and all issues that inevitably come up from time to time. If there is an problem we fix it, an issue we solve it. We want everyone to know and feel confident that when they are dealing with us they have made a good decision."
Terry Moving and Storage is pleased to be a part of Ripoff Reports Corporate Advocacy Business Remediation and Customer Satisfaction Program. Mr. Terry further explains by stating, "I am glad to have this platform to set the record straight on this website."
Complete Orange County and Southern California Full Service Moving
"
Terry Moving & Storage Inc has a number of trucks ready for local moving, crating and packing services all around Orange County. This company has every moving detail covered and we even provide much needed long distance moving services across the Western United States.
Our customers love us not only for our professional moving services but also for the speed at which we do so. We know that moving can be stressful for you and for this we do all we can to finish the job as fast as possible. But within that fast style we incorporate quality. Being fast is not good unless there is a method, a method of efficiency which we use to keep your things safe. Efficiency is the key with any Orange County Mover.
Our long-term stint in the moving industry has greatly endeared us to clients in California. As part of our impeccable customer service, we offer a free no obligation estimate for you here today. If you are planning on relocating or are looking for top-notch storage facilities, Orange County Movers is certainly the company to call. You are always assured of high standards by our knowledgeable staff who are specially trained to provide you peace of mind while moving your property. Pick up the phone and call us now for the best rates ever in the Orange County Movers business. It is never too early to plan out your moving strategy, we will help you do that.
Terry Moving and Storage can provide all of your moving, packing and crating needs for all of Southern California, along with full service door to door delivered storage anywhere in Orange County. Our trucks regularly provide local moving, professional packers and crating services for Orange County, Los Angeles, San Diego and Riverside. If you need a piano moved, there are no extra charges for moving a piano along with your standard moving services. Along with local moving, we can provide long distance moves to any destinations in California and interstate moves across the Western United States. If you're planning a local move anywhere in Southern California, a long distance move to any destinations in Central California, Northern California or the San Francisco Bay Area or an interstate move anywhere in the Western United States, we can make it happen quickly."
Terry Moving and Storage Inc. / Statement from Mark Terry the owner and President of terry Moving and Storage Inc.
"
After 28 years in business, thru hard times and good times I have always stressed "the customer" the customer the customer. I take great joy in that my son and daughter are now part of my team and have taught them the value of family moving families. I started in my mom's one car garage and that garage is now 25,000 sg ft. Navigating a business that long can only be possible with strong customer service at it's core. We look forward to finding out your needs by talking with you, visiting with you in your home and formulating a moving plan that fits your budget and needs for one guaranteed price."
Terry Moving and Storage Inc. is a top quality moving and storage company offering short and long term storage with local and Interstate moving available. We also now offer Mobile Storage for customers who want to save and load the containers themselves. Effective planning, expert packing, and moving service guaranteed to please is what we do everyday. We look forward to serving your needs and say 'Thanks for Letting Us Be of Service' with quality employees who are trained and paid higher then the industry norm, we are confident in our employee's ability to pack, move and store you goods with care and security."
Terry Moving and Storage Inc. takes employee satisfaction seriously as well. Employee feedback and surveys reveal comments such as this, "We like to treat our employees with respect and feel in the moving business we are the best place for family oriented men and women to work. Creating a positive working environment with team players is what we try to have here. Most of our employees have been with us for multiple years something we are proud of."
Ripoff Report was pleased to learn that Terry Moving and Storage Inc.'s past and current approach to business is focused on its pledge to total commitment towards client and employee satisfaction.
STATED IMPROVEMENTS FROM Terry Moving and Storage Inc.
Terry Moving and Storage Inc. recognizes that complaints posted on Ripoff Report (whether true or not) are issues that need to be addressed, not ignored. If handled correctly, complaints can be valuable learning opportunities. With the feedback generated by Ripoff Report's review, Terry Moving and Storage has made organizational changes allowing its clients and employees a more streamlined approach to problem resolution and a commitment to a great client experience.
In summary, after our review, which included discussions with Mr. Terry, Ripoff Report is convinced that Terry Moving and Storage Inc. is committed to quality delivery of services resulting in total client satisfaction.
Read more about why consumers should feel confident when doing business with a member of Ripoff Report's Corporate Advocacy Business Remediation & Customer Satisfaction Program. Yes, it's a long name for a program that does a lot for both consumers and businesses alike.
Read about Ripoff Report Corporate Advocacy Business Remediation & Customer Satisfaction Program, a program that benefits the consumer, assures them of complete satisfaction and confidence when doing business with a member business. this program works.
As a matter of policy, when a business becomes a member of the Corporate Advocacy Program they agree to allow Ripoff Report to contact every client who filed a complaint so they can make things right with them. In order to confirm that the complaints were resolved, Ripoff Report is copied on all responses so we can insure that the member business did right by their customer.
NOW TO THE ORIGINAL REPORT THAT WAS FILED
-----------------------------------
Mark Terry Moving and Storage Terry Moving Lake Forest, Nationwide
Mark Terry is a lying, cheating, stealing b*****d. My family hired his company to move our 5 bedroom house and charged us the day of the quote only to later have his driver add more "fees". Not to mention this occurred after we called him to tell him a few of our items had been damaged and to report things missing. Hmmm....is this his way of having US pay for our damaged missing items?!?! When I called him back to ask about all of these "new" fees he felt the need to be verbally abusive and told me if I didnt pay then he would have his workers stop unloading and would hold our remaining belongings. Who does this to people?!?! And as for our damaged/missing items, he said we would get 60 cents per pound per article!!!!! What am I suppose to do with that?? wipe my a**?? Do not use Mark Terry's moving company unless you want to take one up the butt!
Click Here to read other Ripoff Reports on Terry Moving and Storage TRUSTED MOVERS | Ripoff Report Verified Safe™ …businesses you can trust. Terry Moving & Storage offering impeccable customer service with free no obligation estimate. Terry Moving & Storage Inc trucks ready for local moving, crating & packing services all around Orange County California. Terry Moving and Storage has every moving detail covered, providing much needed long distance moving services across the Western United States. Ripoff Report Verified Safe™
Search for additional reports
If you would like to see more Rip-off Reports on this company/individual, search here:
Search Tips