Complaint Review:

The Green Room Academy

The Green Room Academy [Jamal Johnson, Jason Demott] They are promising training on binary options but instead taking people's money and refusing to exchange trading strategies or refunding people. Also offering expensive up sales on top of hundreds of dollars that it takes to be part of the team and the live signals are 25% accurate meaning everyone is losing money. STAY AWAY FROM THE GREEN ROOM. If you try and voice your opinion they will block you on facebook. Internet
*REBUTTAL Owner of company: This report is a ripoff in and of itself
*Author of original report: The Green Room Academy's Jamal Johnson & Jason Demott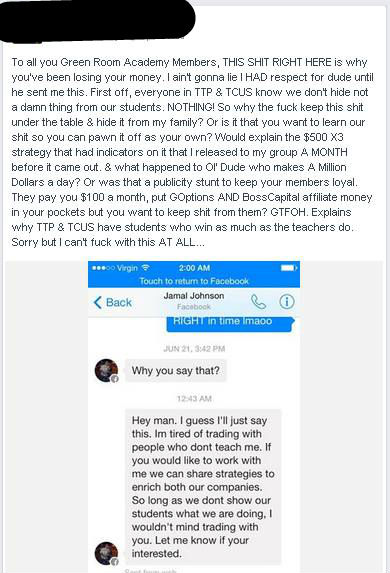 ←
Is this
Ripoff Report
About you?
Ripoff Report
A business' first
line of defense
on the Internet.
If your business is
willing to make a
commitment to
customer satisfaction
Click here now..
Does your business have a bad reputation?
Fix it the right way.
Corporate Advocacy Program™
They are promising training on binary options but instead taking people's money and refusing to exchange trading strategies or refunding people, even if they didnt get the trading products or training. Also offering expensive up sales on top of hundreds of dollars that it takes to be part of the team and the live signals are 25% accurate meaning everyone is losing money. STAY AWAY FROM THE GREEN ROOM. If you try and voice your opinion they will block you on facebook. They use fake facebook accounts like "Pastor Tony" or "Rodrigo Niz" and others and use them for publicity stunts to get people to sign up. Again, STAY AWAY FROM THE GREEN ROOM!
Click Here to read other Ripoff Reports on The Green Room Academy
Search for additional reports
If you would like to see more Rip-off Reports on this company/individual, search here:
Search Tips

Advertisers above have met our
strict standards for business conduct.