Complaint Review:

Bishop Appliance Services - KEN DALTON
Bishop Appliance Services - KEN DALTON

333 Sierra St # 5

BISHOP, California

USA
Bishop Appliance Services - KEN DALTON a.k.a. KENNETH ALLAN DALTON - *CHILD MOLESTER* KEN DALTON DEFRAUDED US. TOOK WASHER APART, ASKED FOR MONEY AND NEVER CAME BACK TO FIX IT. BISHOP California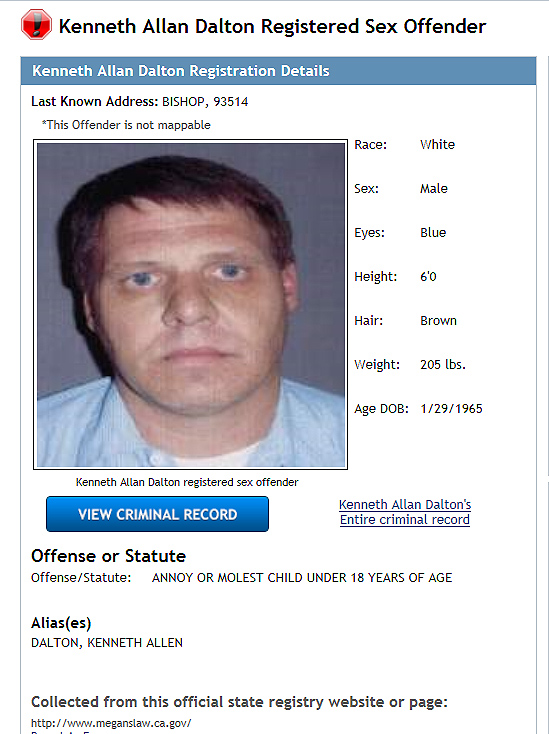 ←
Is this
Ripoff Report
About you?
Ripoff Report
A business' first
line of defense
on the Internet.
If your business is
willing to make a
commitment to
customer satisfaction
Click here now..
Does your business have a bad reputation?
Fix it the right way.
Corporate Advocacy Program™
KEN DALTON a.k.a. "BISHOP APPLIANCES SERVICE" DEFRAUDED US. TOOK WASHER APART, ASKED FOR MONEY AND NEVER CAME BACK TO FIX IT. DOES NOT RETURNS CALLS OR EMAILS, REPORTS SUGGESTS HE OPERATES WITHOUT LICENSE AND CHEATS PEOPLE FOR LIVING. BEWARE, REGISTERED SEX OOFENDER AND VERY DANGEROUS!
Click Here to read other Ripoff Reports on Bishop Appliance Services - KEN DALTON
Search for additional reports
If you would like to see more Rip-off Reports on this company/individual, search here:
Search Tips