Complaint Review:

Hole in One Clearing house
Hole in One Clearing House Dennis Chase GTAA Business Fraud Insubordinate Ripped Off Money Dana Point California
*Consumer Comment: GTAA Stay Away Hole in One Clearing House WORSE
*Author of original report: ANOTHER Hole in One Clearing House scam
*Author of original report: ANOTHER Hole in One Clearing House scam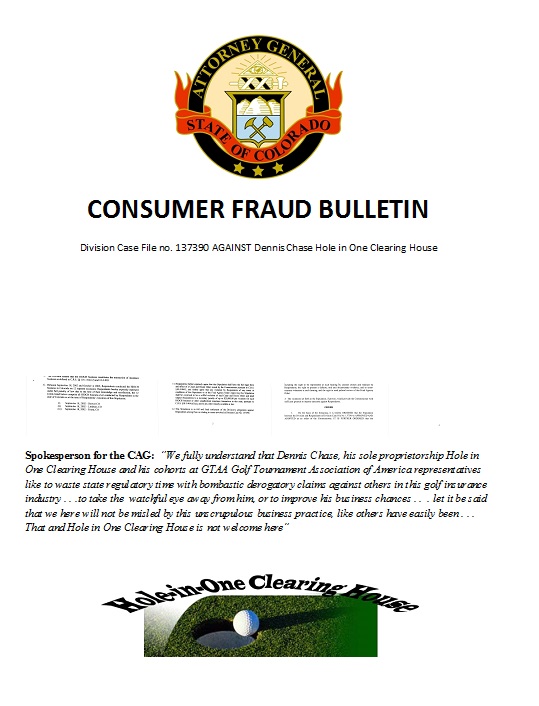 ←
Is this
Ripoff Report
About you?
Ripoff Report
A business' first
line of defense
on the Internet.
If your business is
willing to make a
commitment to
customer satisfaction
Click here now..
Does your business have a bad reputation?
Fix it the right way.
Corporate Advocacy Program™
I knew about his history ripping off a racetrack in Chicago for $250,000, fired from his Colorado company ACECO, for the "does not work well with others" syndrome. Stealing of classified clients list upon his termination, but against my better judgement I started a North Carolina Golf Prize comapny with him and a 3rd partner silent investor from Connecticut.
Dennis Chase within 30-45 days depeleted all of his initial start up funding on reckless expenses and then wanted to ripoff a client, wanted the investor to reinvest more funding, at that point I dissolved the business and returned what monies was left to the silent investor from Connecticut.
Dennis Chase has no business savvy or understanding on how to run a successful business.
DO NOT GET INTO ANY BUSINESS VENTURE WITH HOLE IN ONE CLEARING HOUSE DENNIS CHASE.
Click Here to read other Ripoff Reports on Hole in One Clearing house
Search for additional reports
If you would like to see more Rip-off Reports on this company/individual, search here:
Search Tips

Advertisers above have met our
strict standards for business conduct.