Complaint Review:

Amtgard (Northern Lights)
Amtgard (Northern Lights)

6046 West Lake Sammamish Pkwy NE Redmond, WA 9805

Redmond, Washington

USA
Amtgard ,Northern Lights, Death threats, Misrepersenting facts, slander Redmond Washington
*Author of original report: the day before i was banned I was denyed to join the lists
*Author of original report: Punished for over a year for asking for help
*Author of original report: WTF no idea threat from an amtgard Newbie very confusing
*Author of original report: A vote to ban me is a vote to allow total abuse of authority
*Author of original report: BOD Resolution: 12/17/2013
*Author of original report: Banning drama ongoing
*Author of original report: Instead of helping me deal with this Amtgard Banned me from the Amtgard facebook group
*Author of original report: Esther Chillicut has filed a report with ripoffreport.com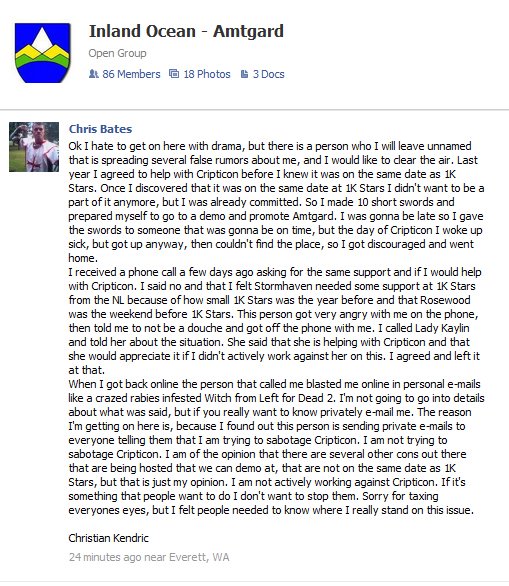 ←
Is this
Ripoff Report
About you?
Ripoff Report
A business' first
line of defense
on the Internet.
If your business is
willing to make a
commitment to
customer satisfaction
Click here now..
Does your business have a bad reputation?
Fix it the right way.
Corporate Advocacy Program™
On going abuse from Amtgard "Leadership" or lack there of
Unwanted contact and random assortment of harassment
example email.

This email account was only used for the many amtgard yahoo groups.


----- Forwarded Message -----
From: A a <iwillhurtyou1234567890@hotmail.com>
To: acolyte_____________@yahoo.com
Sent: Saturday, June 16, 2012 2:09 AM
Subject: F**k you you stupid c**t

Hi Esther _________

I don't want to kill you. No. That wouldn't be enough punishment. I want to torture you. Slowly and painfully. [continued below]....
..... I want to come up behind you, club you over the head with a crowbar, drag you into an alley, cut open your left knee and pull your patella out, then burn the tips of your fingers off of your fingers with a lighter, then cut the lying, wh*re-tongue out of your mouth. Then call 911, and hope they get to you in time to save your life. Then you'll have to live life like that. No tongue, no finger tips, no knee cap. It would be delightful. I would revel in every second you are alive.

Failing that, if I could get away with one murder, for free without penalty, I would order a "Most painful death imaginable" for you. Seriously. I f**king hate you and think you should go kill yourself.

Sincerely,

Someone who would stop at nothing to make you suffer if he could.
----- Forwarded Message -----
From: A a <iwillhurtyou1234567890@hotmail.com>
To: acolyte_________@yahoo.com
Sent: Saturday, June 16, 2012 7:34 PM
Subject: I wasn't kidding Esther
I do want to destroy you. I want you to suffer for eons.

Sincerely,
Someone who hates you with a fiery passion.
Click Here to read other Ripoff Reports on Amtgard (Northern Lights)
Search for additional reports
If you would like to see more Rip-off Reports on this company/individual, search here:
Search Tips

Advertisers above have met our
strict standards for business conduct.