Complaint Review:

Argentina - CORRUPT politician Alicia Kirchner - ministry of social development
Argentina - CORRUPT politician Alicia Kirchner - ministry of social development

Balcarce 50

Buenos Aires, Select State/Province

United States of America
Argentina - CORRUPT politician Alicia Kirchner - ministry of social development Romina Mercado - daughter Buenos Aires, Other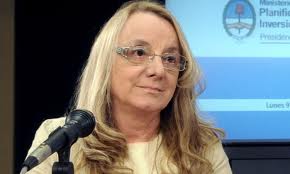 ←
Is this
Ripoff Report
About you?
Ripoff Report
A business' first
line of defense
on the Internet.
If your business is
willing to make a
commitment to
customer satisfaction
Click here now..
Does your business have a bad reputation?
Fix it the right way.
Corporate Advocacy Program™
Alicia Kirchner, sister of ex-president NOW DEAD Nestor Kirchner and sister in law of president Cristina Fernandez de Kirchner, the most corrupt president ever to be in Argentina. Alicia Kirchner is leader of a group called "Kolina" which she tries to diguise as a social organization but is really a group of young armed militants to keep the president in power and remove any opposition. Alicia Kirchner has "purchased" federally owned land for pennies and has resold that land in the south of Argentina for millions of dollars of course this money goes directly to her, and the land belongs to the citizens of Argentina. Alicia Kirchner's daughter, Romina Mercado is a criminal has several criminal charges against her.


Click Here to read other Ripoff Reports on Argentina - CORRUPT politician Alicia Kirchner - ministry of social development
Search for additional reports
If you would like to see more Rip-off Reports on this company/individual, search here:
Search Tips

Advertisers above have met our
strict standards for business conduct.