Complaint Review:

Career Education Corporation - Gary McCullough: Looking Grim? - CECO - CEC - Gary E. McCullough - CEC Lawsuits - Career Education Lawsuits - CECO Lawsuits - AIU - IADT - Sanford Brown
Career Education Corporation - Gary McCullough: Looking Grim? - CECO - CEC - Gary E. McCullough - CEC Lawsuits - Career Education Lawsuits - CECO Lawsuits - AIU - IADT - Sanford Brown

Hoffman Estates

Hoffman Estates, Illinois

United States of America
Career Education Corporation - Gary McCullough: Looking Grim? - CECO - CEC - Gary E. McCullough - CEC Lawsuits - Career Education Lawsuits - CECO Lawsuits - AIU - IADT - Sanford Brown www.careered.com - Career Education Corporation News - Nasdaq: CECO - Career Education Corp - CEC Lawsuits - Career Education Corporation Lawsuit - CECO Lawsuit - CECO Daily Finance - CECO Yahoo! Fina CEC Lawsuits - CECO Lawsuits - Gary McCullough - CEC Finance - CECO Stocks - CECO Shares - CECO Stocks - IADT - AIU - Sanford Brown Hoffman Estates, Illinois
*General Comment: Need the link for that arbitration.
*Consumer Suggestion: class action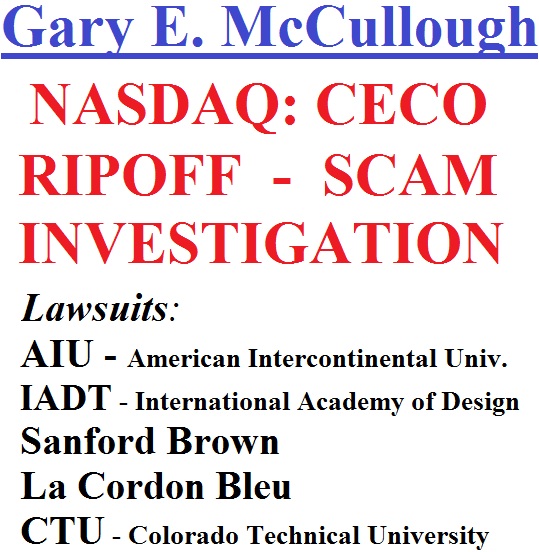 ←
Is this
Ripoff Report
About you?
Ripoff Report
A business' first
line of defense
on the Internet.
If your business is
willing to make a
commitment to
customer satisfaction
Click here now..
Does your business have a bad reputation?
Fix it the right way.
Corporate Advocacy Program™
Stay away from (CEC) Career Education Corporation Schools (Nasdaq: CECO)

Here is a list if CEC schools:
(*) Schools which have been sued or are currently being sued

* IADT - International Academy of Design
* AIU - American InterContinental University
* Sanford Brown
* Le Cordon Bleu
* Briarcliff
* CTU - Colorado Technical University

If you've attended any of these schools or are currectly enrolled, please read online reports and consult an attorney without delay. It appears CEC has been running degree mills in addition to being investigated by the government, and this will only hurt you the longer you're enrolled in their programs. The career world along with state colleges DO NOT recognize CEC programs as reputable.

DO NOT TRUST A SINGLE CEC EMPLOYEE! AS THE REPORTS WILL SHOW, CEC'S BOTTOM LINE IS MONEY, NOT EDUCATION. [continued below]....
Click Here to read other Ripoff Reports on Career Education Corporation - Gary McCullough: Looking Grim? - CECO - CEC - Gary E. McCullough - CEC Lawsuits - Career Education Lawsuits - CECO Lawsuits - AIU - IADT - Sanford Brown
Search for additional reports
If you would like to see more Rip-off Reports on this company/individual, search here:
Search Tips

Advertisers above have met our
strict standards for business conduct.