Complaint Review:

Chevron 7533 W Atlantic Ave Delray Beach
Chevron 7533 W Atlantic Ave Delray Beach

7533 W Atlantic Ave

Delray Beach, Florida

USA
Chevron 7533 W Atlantic Ave Delray Beach Chevron Station 00051345 False Advertising Gas Prices Delray Beach Florida
*Consumer Comment: I guess for people that can't comprhend the meaning of the sign
*Consumer Comment: Common
*Consumer Comment: I guess, for people who can't comprehend the meaning of the sign...
*General Comment: Assumption.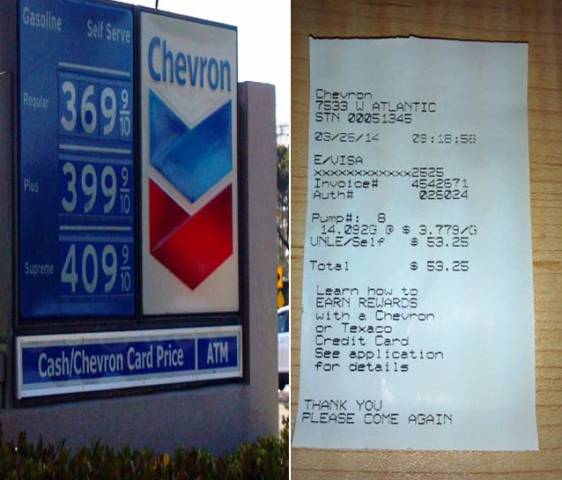 ←
Is this
Ripoff Report
About you?
Ripoff Report
A business' first
line of defense
on the Internet.
If your business is
willing to make a
commitment to
customer satisfaction
Click here now..
Does your business have a bad reputation?
Fix it the right way.
Corporate Advocacy Program™
Today, March 26, 2014 the price of gas advertised on the sign stated 2.699 for regular "Cash or Chevron Credit Card" and made no notice that using any other credit card was additional. After filling up with $53.25 worth of gas, I noticed they charged me $3.779 per gallon. I complained to the store clerks and they stated that it is what it is! I surely won't be back to this station, espcially since its new ownership continues to rip off its customers of 15 years. I believe this to be false advertising and something should be done about it. It is bad enough they are about 10 cents higher than everyone else, then they need to rip you off another 8 cents per gallon.
Click Here to read other Ripoff Reports on Chevron 7533 W Atlantic Ave Delray Beach
Search for additional reports
If you would like to see more Rip-off Reports on this company/individual, search here:
Search Tips

Advertisers above have met our
strict standards for business conduct.