Complaint Review:
Hisgadget, Inc
Hisgadget, Inc

33442 Western Avenue

Union City, California

USA
Hisgadget, Inc sells cheap knockoffs as OEM parts Hisgadget aka Chargerbuy aka Eskynow aka B2B Discover aka Hismarket sells cheap knockoffs as OEM parts Union City California
←
Is this
Ripoff Report
About you?
Ripoff Report
A business' first
line of defense
on the Internet.
If your business is
willing to make a
commitment to
customer satisfaction
Click here now..
Does your business have a bad reputation?
Fix it the right way.
Corporate Advocacy Program™
I ordered an ac adapeter that Hisgadget is advertiseing as an "Original Toshiba Adapter" on Amazon.com. They use a picture of an Original Toshiba ac adapter in their ad, and claim it is made by Toshiba.
When the adapter arrived it was a cheap Chinese knockoff of grossly inferior quality. The same cehap knockoff is available elsewhere for half the price I paid for what was advertised as an origianal Toshiba Adapter.

When I contacted the complany via Amazon, they tried to claim that the knockoff was a genune Toshiba part. They insisted I take pictures and pay return postage, and only then would they consider a refund.
Hisgadget, inc uses a variety of names on the Internet, and sells on Amazon, Sears, etc. They do NOT deleiver what they advertise, and then use weasle words when you try to get your money refunded.

This is the email I recieved from Hisgadget when I demanded a refund:
Dear Customer, Thanks for the clear pictures and your kind reply. Please kindly note that I have checked with our product consultant and he explained as follow:We can never say the world's largest provider of AC power supplies makes knockoffs. http://en.wikipedia.org/wiki/Delta_Electronics Do you still have your original adapter? Check out the label on it, you can find out the manufacturer is not Toshiba itself. (on the lower part of the label) All the genuine adapters for any brand of laptops in the world are made by three enterprises: Delta, Hipro and Liteon. In other words, Delta made adapters are genuine.If you are still unsatisfied with the charger, please get back to us and we will send you the return information and RMA number.We are sorry again for the inconvenience. Best Regards,EileenHisgadget Inc
This is the fraudulent ad placed by Hisgadget Inc which shows an original Toshiba adapter. Note the straight tip, velcro cable strap, and heat warning label, which are standard on Original Toshiba Adapters:
This is a picture of an original Toshiba adapter as it appears on Toshiba's website, also with straight tip, velcro cable strap and yellow heat warning label:
This is a picture of my Original Toshiba Adapter. Please note the straight tip, heat warning label, and velcro cable strap:
This is a picture of the cheap knockoff Hisgadget sent me, which they are fraudulently selling on Amazon as an "Original Toshiba Adapter" Note the angled tip, lack of heat warning label and velcro cable strap:



The labels and input amps are different. The Toshiba Adapter has "Toshiba" printed on it. The Hisgadget knockoff does not.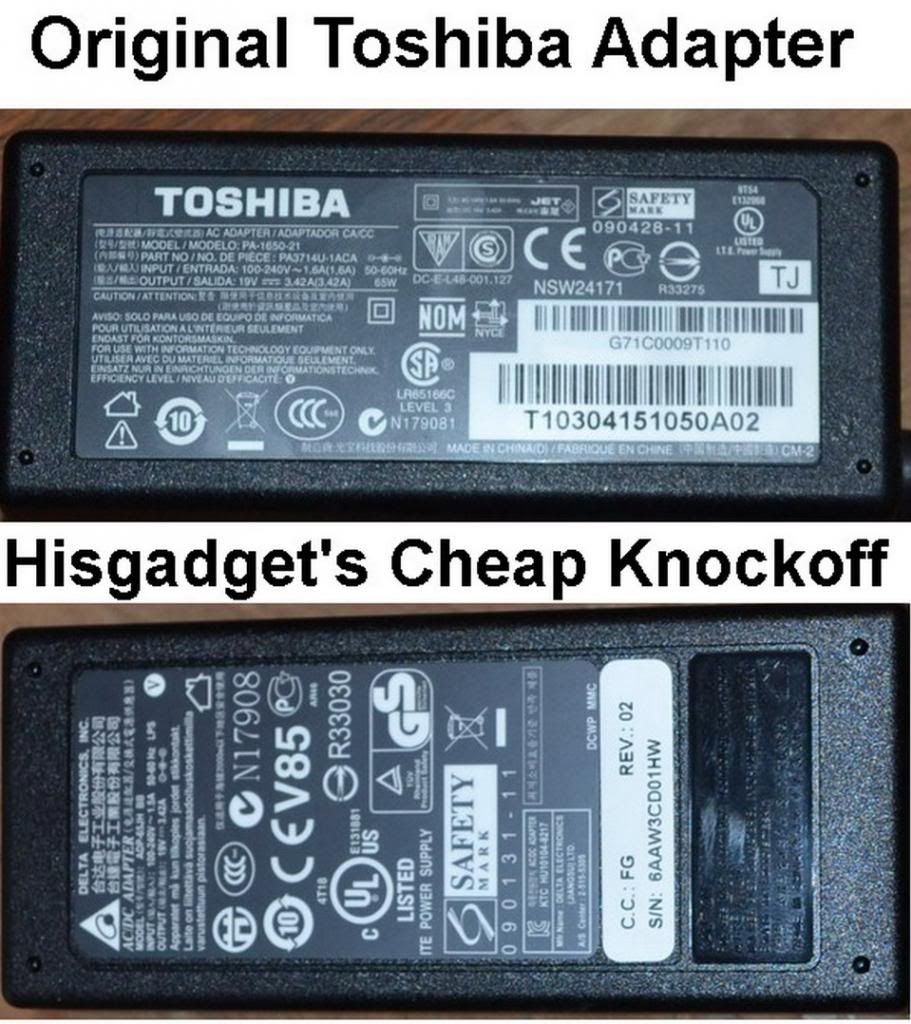 The input amps are different. The Toshiba's input amperage is 1.6, Hisgadget's cheap knockoff has an input amperage of 1.5
The Toshiba in-line resistor is twice the size of the Hisgadget knockoff's resistor, and the Hisgadget knockoff's cord is about half the circumference and weight of the Toshiba's....at least 4-6 gauges smaller. The tips are also different. The Toshiba adapter has a straight tip and Hisgadget's cheap knockoff has an angled tip.



The cases are different. The Toshiba has a heavy molded case and Hisgadget's knockoff has a cheap, lightweight, snap case.



The cords are different too. The Toshiba adapter has a heavy duty cord that is two feet longer than the Hisgadget knockoff.



It's a crying shame that these rip off artists are all over Amazon, claiming their cheap, Chinese hunks of junk are name brand origianal parts.

Since I've spent over a week trying to get a refund, and wasted a ton of time on this scammer, I've decided to post warnings allllll over the Internet in the hopes these posts will prevent someone else from being ripped off by Hisgadget Inc...or whatever other name they are using this week.

Click Here to read other Ripoff Reports on Hisgadget, Inc
Search for additional reports
If you would like to see more Rip-off Reports on this company/individual, search here:
Search Tips
Advertisers above have met our
strict standards for business conduct.