Complaint Review:
Matt Howard Matt Scrap Metal
Matt Howard Matt Scrap Metal

236 Ralston, Converse, Texas 78109

Kempner, Texas

USA

Phone: +1 210-467-2209
Category: Websites
Matt Howard Matt Scrap Metal Cash for unwated stuff Scammer, not paying web design freelance work Kempner Texas
*Author of original report: Proof
*REBUTTAL Owner of company: you was paid
←
Is this
Ripoff Report
About you?
Ripoff Report
A business' first
line of defense
on the Internet.
If your business is
willing to make a
commitment to
customer satisfaction
Click here now..
Does your business have a bad reputation?
Fix it the right way.
Corporate Advocacy Program™
I met this guy via Craigslist, ( http://manila.en.craigslist.com.ph/web/4047860031.html) he was looking for a freelancer to work on his "buy back program site" with a customized woo commerce plugin in a wordpress site. To make the story short, I worked on his website for 2 weeks http://cashforunwantedstuff.com/ and when payment time comes, he just disappeared and removed me from his skype contacts.

This Matt Howard is also the owner of Matt Scrap Metal (https://www.facebook.com/mattscrapmetal ) looks like a legit business that is why I trusted him from the start.




Some more details about him:

Location kempner, San Antonio, Texas 78200
Phone +1 210-467-2209 +254 46 66083
Email mattscrapmetal@gmail.com


Our last skype conversation: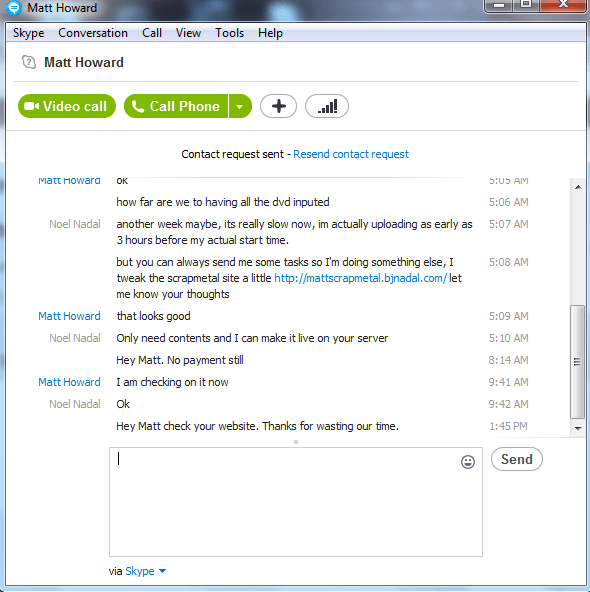 Click Here to read other Ripoff Reports on Matt Howard Matt Scrap Metal
Search for additional reports
If you would like to see more Rip-off Reports on this company/individual, search here:
Search Tips
Advertisers above have met our
strict standards for business conduct.