Complaint Review:

Orhni from facebook
Orhni from facebook

Internet

USA
Orhni from facebook Razia Saleem I paid 11400 pk rp to get my dress including the shipping..after one month she tell me to add more 70 euro for shipping because she changed shipping company. The deal was already done, she cannot change the price of the shipping when all payment has already been done. She said she cannot send the dress, i have to pay more. Its been 3months, she blocked me on facebook, she does not answer my watsapp, its a complete fraud company! They make promises that you will get ur dress original, lots of flattering, take the name of god etc, but completely liars and fraud..and she has the guts to tell me I AM a fraud because i dont want to send more mober for shipping.. Pakistan Internet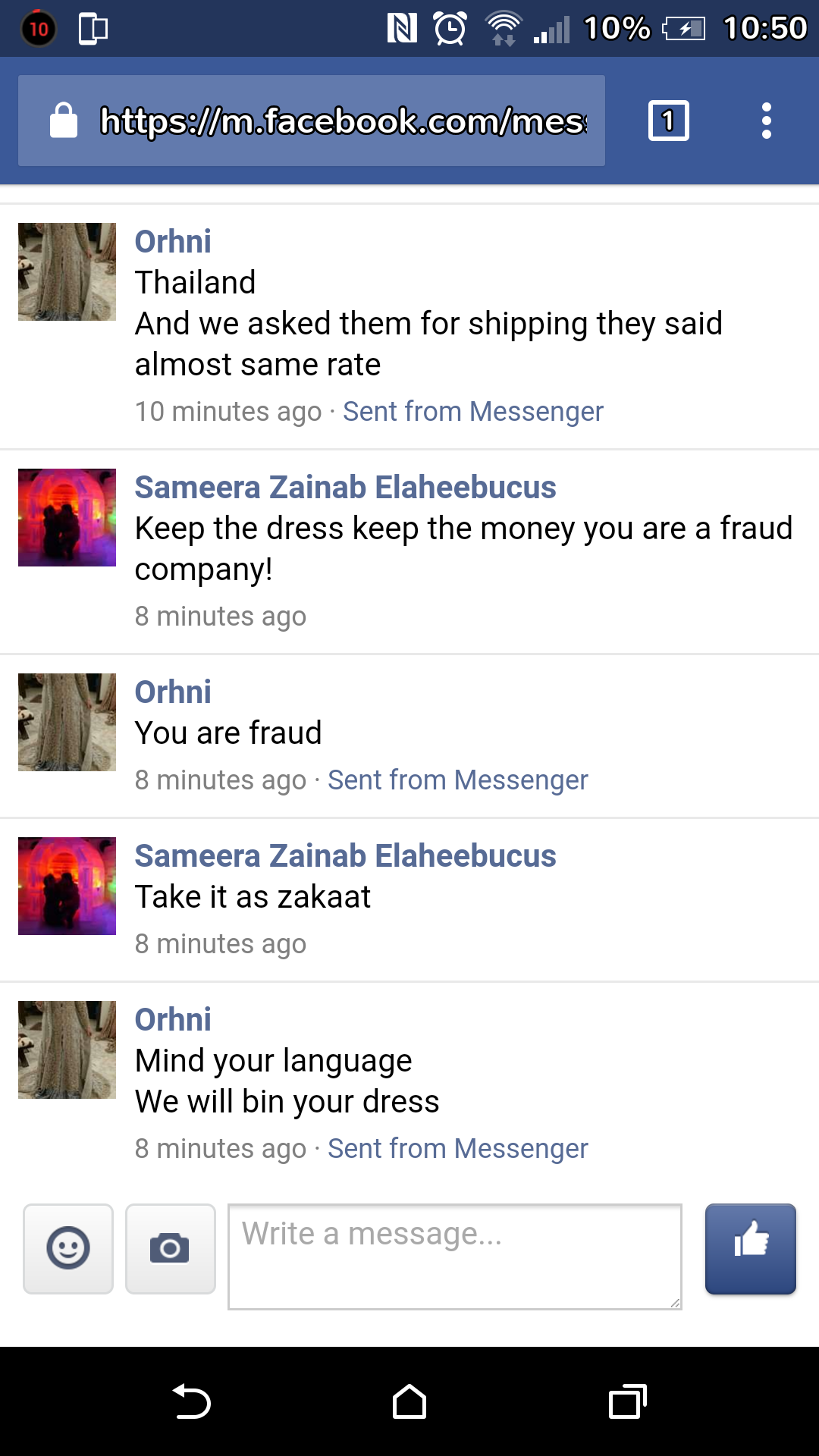 ←
Is this
Ripoff Report
About you?
Ripoff Report
A business' first
line of defense
on the Internet.
If your business is
willing to make a
commitment to
customer satisfaction
Click here now..
Does your business have a bad reputation?
Fix it the right way.
Corporate Advocacy Program™
I paid 11400 pk rp to get my dress including the shipping..after one month she tell me to add more 70 euro for shipping because she changed shipping company. The deal was already done, she cannot change the price of the shipping when all payment has already been done. She said she cannot send the dress, i have to pay more. Its been 3months, she blocked me on facebook, she does not answer my watsapp, its a complete fraud company! They make promises that you will get ur dress original, lots of flattering, take the name of god etc, but completely liars and fraud..and she has the guts to tell me I AM a fraud because i dont want to send more money for shipping.. The money was transfered by western union
Click Here to read other Ripoff Reports on Orhni from facebook
Search for additional reports
If you would like to see more Rip-off Reports on this company/individual, search here:
Search Tips

Advertisers above have met our
strict standards for business conduct.