Complaint Review:

Ray's Bucktown B&B
Ray's Bucktown B&B

2144 N. Leavitt Chicago IL 60647

Chicago , Florida

USA

Phone: 773.384.3245
Category: Hotel
Ray's Bucktown B&B I am a frequent traveler and see it all. I can tell you flat out that this place is not worth the price. Yes, the area is trending and cool if you think national chain stores lining a street swarmed with uptight yuppies by day and the dregs of bar life at night is somehow cool. The hole area needs an enema. The inn itself is nothing to right home about. Cramped rooms and what the owner calls funky decore is just bad tase run amok. Breakfast? Well, that leaves a lot to be said. Soggy buttered toast, greasy eggs and sum cold bacon. Not my idea of made to order. ← rustypayton (May 13 20:13) Chicago Florida
*General Comment: Wrong reviewer
*Consumer Comment: To each his own.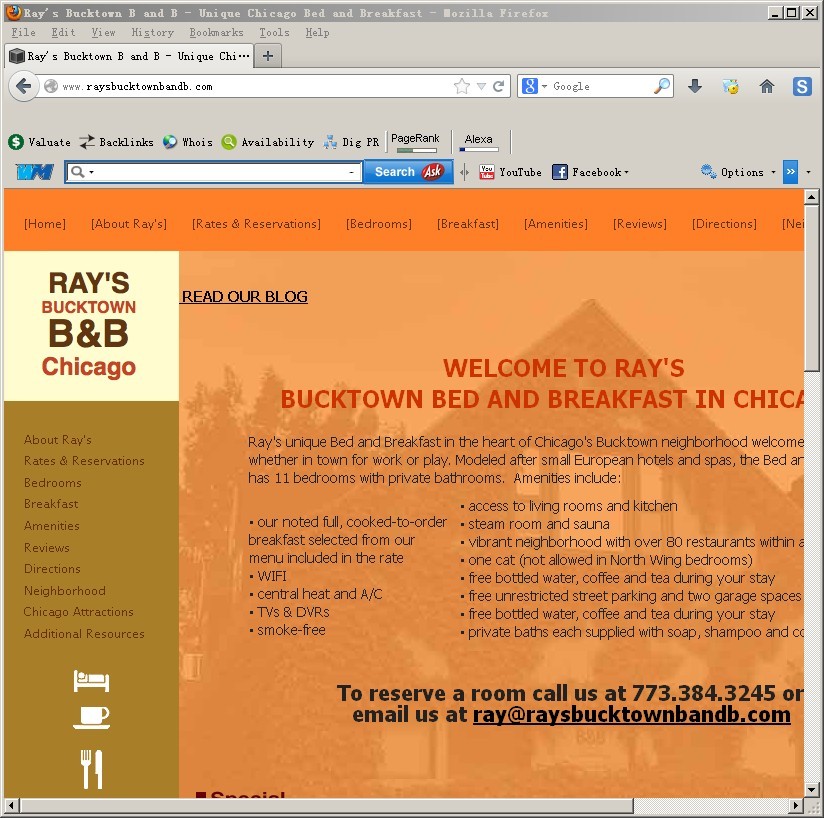 ←
Is this
Ripoff Report
About you?
Ripoff Report
A business' first
line of defense
on the Internet.
If your business is
willing to make a
commitment to
customer satisfaction
Click here now..
Does your business have a bad reputation?
Fix it the right way.
Corporate Advocacy Program™
..... I can tell you flat out that this place is not worth the price. Yes, the area is trending and cool if you think national chain stores lining a street swarmed with uptight yuppies by day and the dregs of bar life at night is somehow cool. The hole area needs an enema. The inn itself is nothing to right home about. Cramped rooms and what the owner calls funky decore is just bad tase run amok. Breakfast? Well, that leaves a lot to be said. Soggy buttered toast, greasy eggs and sum cold bacon. Not my idea of made to order.
←
rustypayton (May 13 20:13)
Click Here to read other Ripoff Reports on Ray's Bucktown B&B
Search for additional reports
If you would like to see more Rip-off Reports on this company/individual, search here:
Search Tips

Advertisers above have met our
strict standards for business conduct.