Complaint Review:

studio manor apartments in irving tx
studio manor apartments in irving tx

1221 N Britain Rd

Irving, Texas

USA
studio manor apartments in irving tx These apartment are off of N Britain rd in Irving txMost horrible place ever had to stay in,glad it was brief.But my sister on the other hand.OMGGas stove leaks,maintence took forever to fix anything.Sister had her children taken away by CPSdo to NEVER LIVE HERE,specially if you have children Irving Texas
*Consumer Comment: Well...
*Consumer Comment: Question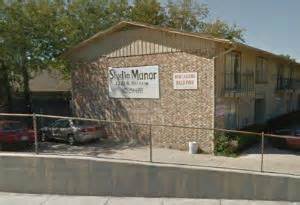 ←
Is this
Ripoff Report
About you?
Ripoff Report
A business' first
line of defense
on the Internet.
If your business is
willing to make a
commitment to
customer satisfaction
Click here now..
Does your business have a bad reputation?
Fix it the right way.
Corporate Advocacy Program™
These apartment are off of N Britain rd in Irving tx Most horrible place ever had to stay in,glad it was brief. But my sister on the other hand. OMG Gas stove leaks, maintence took forever to fix anything.
Sister had her children taken away by CPS do to roach infestation,as well same thing with a few other residence my sis hired a pest control to come in, seeing how the apartments would not. when the pest control came in, not only was there a roach problem, but they found BED BUGS and termites in the walls.
she was forced to move just so she could get her children back. and even though CPS said they had to move. they are trying to bust them for breach of lease ?? REALLY this place should be condemned or something.
Click Here to read other Ripoff Reports on studio manor apartments in irving tx
Search for additional reports
If you would like to see more Rip-off Reports on this company/individual, search here:
Search Tips

Advertisers above have met our
strict standards for business conduct.