Complaint Review:
Tiffany Glover Williams
Tiffany Glover Williams

1822 FM 2727

Kaufman, Texas

USA
Tiffany Glover Williams stalker, mental illness, violent threats, sexual harassment, child endangerer Kaufman Texas
*Consumer Suggestion: hiding behind....
*Consumer Suggestion: BULLY BE GONE
*Consumer Suggestion: BIG Bully
*Author of original report: Screenshots of Tiffany Williams and her slutty "internet friends" (here's where you can report her stalking to authorities)
*Consumer Comment: Hi Candy/Karen
*Consumer Comment: Connected to Mary?
*Author of original report: This psychopath is connected to the "Mary E Norcross" stalker
*General Comment: WOW!!!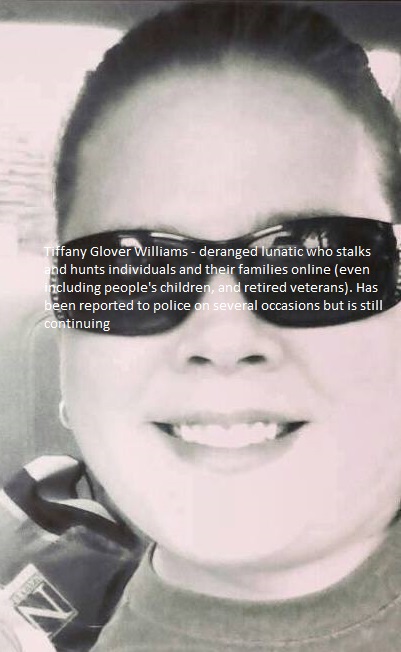 ←
Is this
Ripoff Report
About you?
Ripoff Report
A business' first
line of defense
on the Internet.
If your business is
willing to make a
commitment to
customer satisfaction
Click here now..
Does your business have a bad reputation?
Fix it the right way.
Corporate Advocacy Program™
Tiffany Glover Williams (aka Owens aka Climer) of Kaufman, TX (also Mesquite) is a rather insane and socially dysfunctional individual, who has been stalking various individuals and their families for several years, mainly on Facebook and a few work-related websites. This includes individuals who she believed to be on medications, or suffering from a disability,
An exerpt of some of the message is listed at the bottom, however the 'abuse' includes anything from mocking their disability or alleged disability, to sexual/violent harassment, to racist/homophobic slurs, to prank calls, to threats against peoples' children and their families (in one instance and individual was threatened to have pictures of their daughter taken from Facebook, photoshopped into pornography, and uploaded to a porn site). [continued below]. [continued below]....
........
As she's likley not cut out for any 'work' (other than perhaps working the streets), Tiffany pursued a seedy 'work at home' gig - where one can sell Girls Gone Wild, Kevin Trudeau products, Extenze male enhancement pills over the phone to earn a little extra change. Though it seems even then she spent more time stalking individuals and their families on and offline (even including an eldery retired veteran) thank actually 'working'.

As a substitute for friends, Tiffany engages in cyber-bullying and harrassment with a small group strangers she met from the same place - consisting of similiarly disgusting, sexually vulgar, and unemployable females (and even one insane male using an alias "Mistermusic" - who was banned from a work forum for sexual harassment). If you think "Mean Girls (or Natural Born Killers if you prefer)", except in their 30-50s, overweight, less hygenic, undermedicated, and with little to no social contact outside of the internet, then you have this little 'internet crew" in a nutshell, excuse the satire. But if it's any consolation, Tiffany isn't the creepiest of the bunch.

---

Tiffany lately seems to have dawned a lower profile, after one of the individuals she was involved with was identified, and visited by their local police for sexual threats against another's children. While most of the harassment occured from anon-screennames, Tiffany's full name and contact information were eventually discovered online, leading to her being contacted by the police regarding it - while no charges were currently filed - any future email, FB, or forum harassment from her or any of her other cabal of misfits are being logged for future use against her if needed.

(Tiffany's police report number :I130324001245****)
Below are some exceprts of Tiffany's stalking and harassment, inclduing some of those of her other 'partners in crime' (names of any of the other 'freaks' will not be mentioned in this report, because this is about Tiffany).

----
How do you think (her name removed) would feel if someone doctored up a photo of her daughter and posted it on a porn site? Because there are already pics of her daughter in the public view.
I am sure it would upset her
Yes, it certainly will.

---
Poor [name removed] doesn't get sarcasm.
By the way after all the years of you posting your BMs' and other personal stuff, you've never mentioned your family. That's rather sad. Good think we can read all about them on the internet
Thank you for being so kind, understanding and coPETHETIC!!
Buwahahaha Buwahahaha..
I sleep very well now.
Just a hint,you look drunk in your avi.
PULEEZE pull out the Nubrillaince to help disguise yer wrinkles.
Perhaps, too many "vaccum" jobs?
MAYBE..you should try "vaccuming" your own husband?
OR [name removed].
Either way, someone would get J**ED**

---
hey (name removed), since you are making it obvious that you've been tapping joy, have you tapped kim yet? she is much prettier than joy is

---
You should be shot in the head a few times
---
Ahhh..........*name removed) shows MORE desperation. Just cover up those s****y legs and the BUSH. You'll be over the embarrassment soon enough...........maybe........~sigh~
Barfola.........we all know............white trash, snatch, floppy, flappy thighs......=(name removed)!!
---
hi looser
good to see ya and yer old crusty btch. [wink]
newayz i gotta go to capital one now. it was nice talkin to ya. [wink] [wink] [wink]
---

Your w***e......excuse me.......h*o dunk town in (location removed), really IS NOT all that far. Perhaps I should Map Quest it for you.......sweetie pie?! My trucker son-in-law would be happy to take care of you

Do you need a map pin pointing your location? Just so you know where you're at?

Hundreds, if not thousands of us would be more than happy to show you where you live.

Forgot your address, telephone #, bank, etc.?


---
Quit whoring in front of everyone while your husband sits at home alone. Gross.

She's hoping that someone is married to the Orkin Man - she has a nice case of crabs. Lmao
---

Go kill yourself you c-nt wh-re.

Go take a nice Sunday drive, maybe we'll get lucky with an out of control speeding truck.

---

Why don't you go hang out with your old man or something?
oh yeah
He left you for a younger version.
One who has a general idea of hygiene...
Now go take another crotch shot for Craigslist.

---
If (name removed) is using sonicare for her horse teeth then she needs a refund. Tell you what. Next time you and her are riding your bycicle take her by the car - wash and use the BIG brush. A normal toothbrush won't do much for those cheeto teeth. As for a smell. I didn't notice as I wouldn't get close enough. Next time you go down. gag gag gag gag (shivers) check her for scabs. That sh*t in between YOUR teeth (name removed) may not be just from food.
Now if you have fetal stains in your panties (name removed) I would suggest that you not wear granny panties.
---
Your wh-re......excuse me.......h*o dunk town in (location removed), really IS NOT all that far. Perhaps I should Map Quest it for you.......sweetie pie?! My 'little friend' would be happy to take care of you Do you need a map pin pointing your location? Just so you know where you're at? Hundreds, if not thousands of us would be more than happy to show you where you live. Forgot your address, telephone #, bank, etc.?
Click Here to read other Ripoff Reports on Tiffany Glover Williams
Search for additional reports
If you would like to see more Rip-off Reports on this company/individual, search here:
Search Tips
Advertisers above have met our
strict standards for business conduct.