Complaint Review:

ubuystorehouse
ubuystorehouse

Internet

USA
ubuystorehouse John Wagner I was shopping for a motorcycle on Oodle and I found a BMW bike that was supposed to be located in Columbus Ohio close to where I live. So when I contacted the person through email for more information they told me that it wasn't in Ohio that it was in New Jersey in to go to their website. They in fact gave me a stock number and told me that if I was interested to confirm them so they can send me an invoice (contact person was John Wagner). Everyday since May the 25 I tried to contact them through Live chat and emails to John Wagner and I had no response. Today when I once again tried to contact them their website is gone. So this is definitely a scam company and I hope they catch them. Internet New Jersey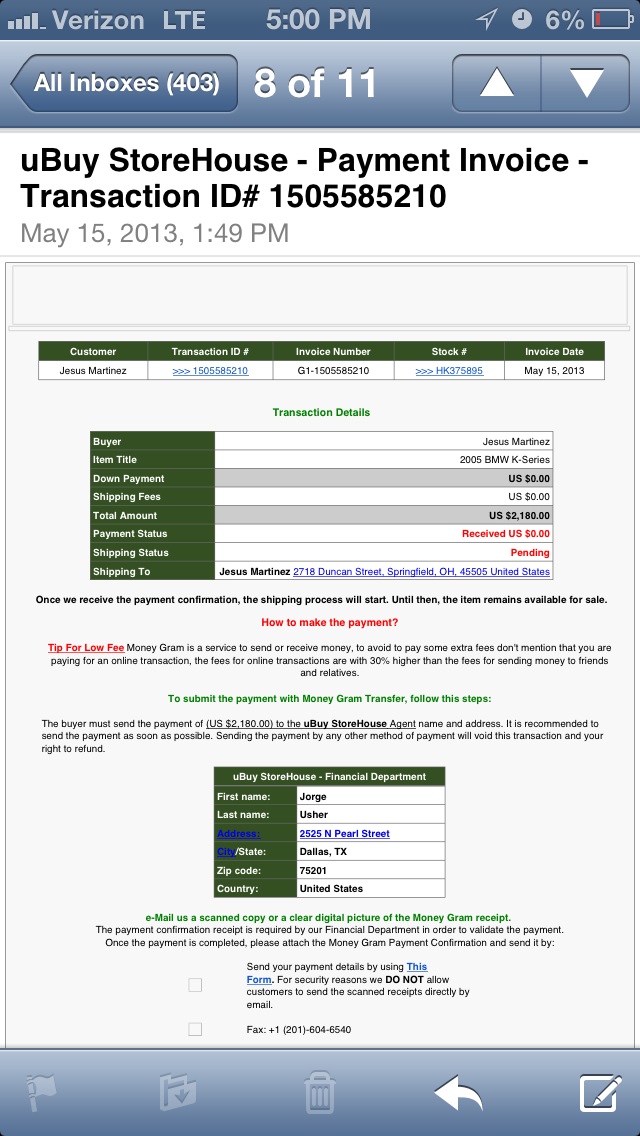 ←
Is this
Ripoff Report
About you?
Ripoff Report
A business' first
line of defense
on the Internet.
If your business is
willing to make a
commitment to
customer satisfaction
Click here now..
Does your business have a bad reputation?
Fix it the right way.
Corporate Advocacy Program™
I was shopping for a motorcycle on Oodle and I found a BMW bike that was supposed to be located in Columbus Ohio close to where I live. So when I contacted the person through email for more information they told me that it wasn't in Ohio that it was in New Jersey and to go to their website. They in fact gave me a stock number and told me that if I was interested to confirm them so they can send me an invoice (contact person was John Wagner). After they send me the invoice I wasn't so sure, so I read through their website and I google their company and they had many good reviews.. So then I decide it to send the payment of $2180 to one of there supposed financial persons named Jorge usher in Dallas Texas. They told me that my shipping would arrived may 25 in the morning. I waited the whole day and after not receiving nothing I tried to contact them through their Live Chat and the supposed Robert K who was the operator kept denying my chat request. [continued below]....
..... Everyday since May the 25 I tried to contact them through Live chat and emails to John Wagner and I had no response. Today when I once again tried to contact them their website is gone. So this is definitely a scam company and I hope they catch them.
Click Here to read other Ripoff Reports on ubuystorehouse
Search for additional reports
If you would like to see more Rip-off Reports on this company/individual, search here:
Search Tips

Advertisers above have met our
strict standards for business conduct.