Complaint Review:

Laser Pegs Ventures, LLC
Laser Pegs Ventures, LLC

8304 Consumer Ct.

Sarasota, Florida

USA
BEWARE www.laserpegs.com - Laser Pegs Ventures, LLC - www.Laserpegs.com - www.laserlaces.com , Jon , Lego toys , led toys , laser laces, laser pegs, jon capriola - RIP OFF BEWARE Sarasota Florida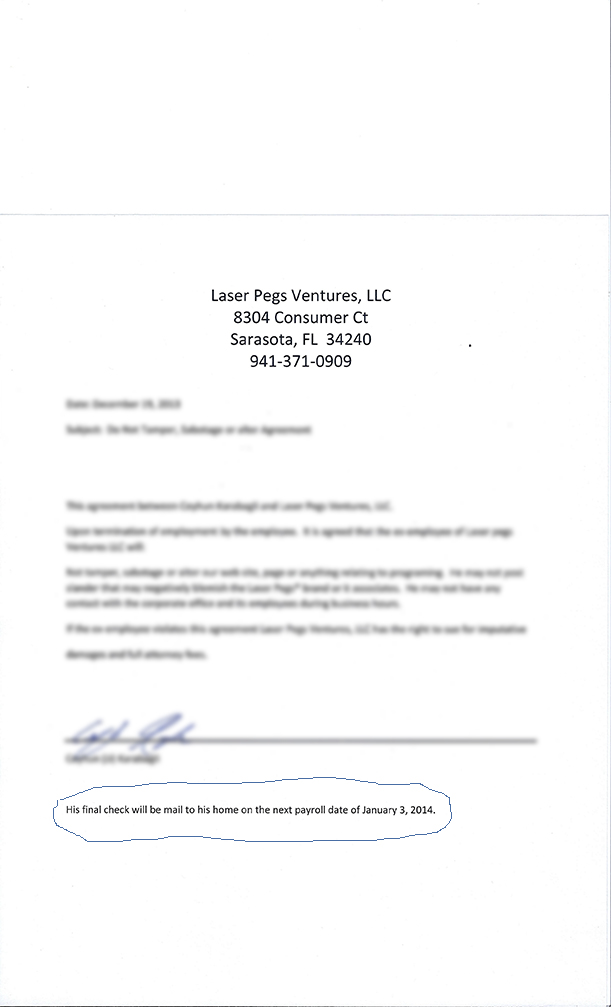 ←
Is this
Ripoff Report
About you?
Ripoff Report
A business' first
line of defense
on the Internet.
If your business is
willing to make a
commitment to
customer satisfaction
Click here now..
Does your business have a bad reputation?
Fix it the right way.
Corporate Advocacy Program™
BEWARE RIP OFF COMPANY
www.laserpegs.com - Laser Pegs Ventures, LLC - www.Laserpegs.com - www.laserlaces.com , Jon , Lego toys , led toys , laser laces, laser pegs, jon capriola - RIP OFF BEWARE
I heard from someone that was employed at this so called "company" - SWIM said that this company would send SWIM a remainder of the hours worked which only totaled out under $500 dollars. SWIM was told that because a project wasn't finished that there would be no compensation. This individual was being paid by the hour and there was no contract saying "paid per project at hourly rate" well the individual gave a 2 week notice and the next day the individual came to pick up the previous paycheck that the individual was fired and to not show back up. And this individual also signed an agreement saying the remainding hours would be paid. [continued below]....
..... Well I warn all consumers, investors, and future employees to not do business or work for this company. This company was founded by a Jon Capriola, who started it in his garage. Now this is an American with values who is living the american dream. And because the individual was fired he wasn't given a chance to finish the project. And it was only 1 day when he goes to pick up the check Jon said he didn't want him to come in anymore and made him sign an agreement. Stating the remainder of the check will be mailed on the third. Well the CEO Jon Capriola said he didn't do any work so he doesn't deserve to get paid. This individual woke up 7 every morning and made an hour commute to the company address and worked a regular 9-5 and didn't get paid. Oh and because he signed something saying you cannot contact any employees of laser pegs ventures, llc yada yada. Well at the bottom it said the individual would be getting a check. Who breached the contract first? Jon Capriola. So Jon and your associates, I hope you're reading this because; this individual didn't get paid, he wasn't able to go see his psychiatrist. And now it's causing him stress.
Sincerely written from a caring friend of the individual who worked here.
His Mother.


PS: My son gave his two week notice because they said he would be getting paid more than $15 an hour. On a side note, they never told him how much he was getting paid in the first place.
Click Here to read other Ripoff Reports on Laser Pegs Ventures, LLC
Search for additional reports
If you would like to see more Rip-off Reports on this company/individual, search here:
Search Tips

Advertisers above have met our
strict standards for business conduct.