Complaint Review:

OCCUPY LAKESIDE PLAZA CONDOMINIUM ASSOCIATION RENO, NV - Embezzlement/Illegal Foreclosure Fraud
OCCUPY LAKESIDE PLAZA CONDOMINIUM ASSOCIATION RENO, NV - Embezzlement/Illegal Foreclosure Fraud

2955 Lakeside Dr

Reno, Nevada

United States of America
OCCUPY LAKESIDE PLAZA CONDOMINIUM ASSOCIATION RENO, NV - Embezzlement/Illegal Foreclosure Fraud STATE OF NEVADA Reno, Nevada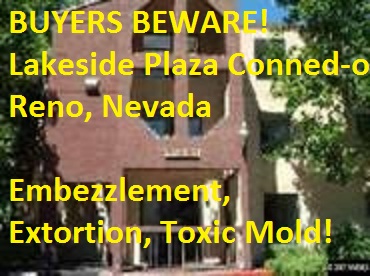 ←
Is this
Ripoff Report
About you?
Ripoff Report
A business' first
line of defense
on the Internet.
If your business is
willing to make a
commitment to
customer satisfaction
Click here now..
Does your business have a bad reputation?
Fix it the right way.
Corporate Advocacy Program™
NEVADA HOMEOWNERS' ASSOCIATION (HOA FRAUD)
LAKESIDE PLAZA CONNED-OMINIUM ASSOCIATION, RENO, NEVADA

THREE HUNDRED FIFTY PERCENT (350%) RAISES IN ASSESSMENTS! EXTORTION / EMBEZZLEMENT SCAM = ILLEGAL FORECLOSURES!

BUYERS BEWARE:

*Embezzlement (check with Washoe County District Attorney 775-328-3287, DA CASE# 406537)

*Toxic Black Mold (due in part to embezzlement, intentional negligence, roof leaks)

*Extortion/Frauds & Swindles ("Bait & Switch") (bought in agreeing to pay a little over $100/month in assessment, assessments raised to nearly $500/month.

*Don't agree with paying $500 to nearly $600/month in HOA fees (+ your mortgage)? They have a nasty habit of getting restraining orders on homeowners that don't agree with embezzlement and extortion.

No help for HOA FRAUD VICTIMS from Nevada law enforcement, Washoe County District Attorney, Reno Police, FBI, Attorney General Catherine Cortez Masto!!!

BOYCOTT & STAY AWAY FROM NEVADA HOAs!!!
Click Here to read other Ripoff Reports on OCCUPY LAKESIDE PLAZA CONDOMINIUM ASSOCIATION RENO, NV - Embezzlement/Illegal Foreclosure Fraud
Search for additional reports
If you would like to see more Rip-off Reports on this company/individual, search here:
Search Tips

Advertisers above have met our
strict standards for business conduct.