Complaint Review:
ProFlowers
ProFlowers florist Express Beware-Your Flower Delivery Nationwide
←
Is this
Ripoff Report
About you?
Ripoff Report
A business' first
line of defense
on the Internet.
If your business is
willing to make a
commitment to
customer satisfaction
Click here now..
Does your business have a bad reputation?
Fix it the right way.
Corporate Advocacy Program™
BEWARE! Mother's Day is coming up! I took the time to pick the right flowers to send my mother for Mother's Day. I placed 3 orders and the first flowers were delivered on May 2nd. Her flowers did NOT look like the picture shown on the web site! The correct flowers weren't even used. I also ordered a balloon, which she never received either. The flowers that were delivered is not something I would have picked out if it was shown as a choice. I've ordered from ProFlowers before and this has happened several times. I stopped ordering for a while and thought they had gotten better. I was wrong! If you order from them , make sure the person receiving the flowers sends you a picture of what they received. Proflowers charges too much money for the recipient not to get delivered what was paid for by the purchaser. [continued below]....
..... They aren't doing anyone any favors, we are paying for this service! The first picture is what was ordered (Hope you can see it).
http://products.floristexpress.com/flowers/Polka-Dots-and-Posies-30079115?ref=fepdeliveryconfirm&cobrand=FEP&srcloc=DCE&viewpos=2&trackingpgroup=fefbs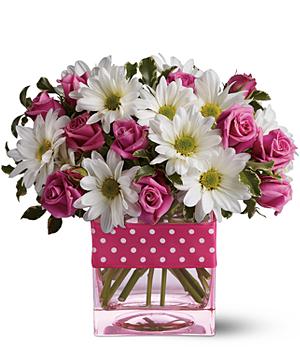 The 2nd picture is what she received! One pink flower probably left over from Easter!
Click Here to read other Ripoff Reports on ProFlowers
Search for additional reports
If you would like to see more Rip-off Reports on this company/individual, search here:
Search Tips
Advertisers above have met our
strict standards for business conduct.