Complaint Review:
Christopher Keisling
- Webster Texas
Christopher Keisling

Heritage park

Webster

,

Texas

United States
Christopher Keisling Christopher Keissling Internet Marketing - SEO He cheated on us, gave an order for writing for their web page and some blogs and then not paying and giving excuse Webster Texas
REBUTTAL BOX™ |
Respond to this Report!
|
Consumer Comment
←
Is this
Report about YOU
listed on other sites?
Those sites steal
Ripoff Report's
content.
We can get those
removed for you!
Find out more here.
How to fix
Ripoff Report

If your business is
willing to make a
commitment to
customer satisfaction
Click here now..
One of our company associates Lisa Morris was connected with him on Linkedin. They are communicating on Linkedin about writing projects. Firstly he(Christopher Keisling) ordered 8 blog page writing. We completed the writing and send him for approval. After a few days when we asked about the update for the approval, he went on giving excuses that he is busy. After a few days passed away again he ordered web page writing, we completed the second task successfully. After some days when again I asked for the update, he again gave the same excuses. Then I noticed without any information he has used the writing and when I told him, he started giving excuses that he has edited the article but nothing has been changed on that article. Then he started using slang and completely denying the payment.
I would request not to deal with this person. Here is their website https://www.christopherkeisslinginternetmarketingseo.com/
Here is the communication made below, Please read once


Hi Christopher,
Thanks for accept my request. I'm a content marketing strategist and guest post service provider. Currently, participate guest post on 4k+ trusted magazines and blogs. We also do the full SEO of a website, Multi-language writing on English, German, Portuguese, Russian and other languages, editing services (articles, blog posts).
Please let me know if you've any outsource projects to work together. Will be happy to work with you. Do you write content for pages for websites Thanks, yes we can write on almost everything and on more than three languages. How much? Can you send me the website need writing. I can say you the price after we see the site Yes ma'am. I will send all the details tomorrow. Thanks for the endorsements. I need a dedicated content writer for at least 2 projects. chriskeissling@gmail.com is my email https://www.jtppaintingservices.com/
Welcome to JTP Painting Service
jtppaintingservices.com • 1 min read
There is the site that I need 3 blog posts written
View Christopher's profile
Christopher Keissling 6:43 PM
I have another project going on that I working on it is a wellness & skin product website we building it now. That is the now that I need 4 pages of website content for. An about us page, home page, policy page, refund and return page.
I live on CST what time zone are you in. I also like to use Google hangouts. Thank you for the endorsemens also!
{:actorName} sent the following message at 8:04 PM
View 's profile
8:04 PM
Thanks for endorsing me for Blogging!
Christopher Keissling sent the following messages at 8:08 PM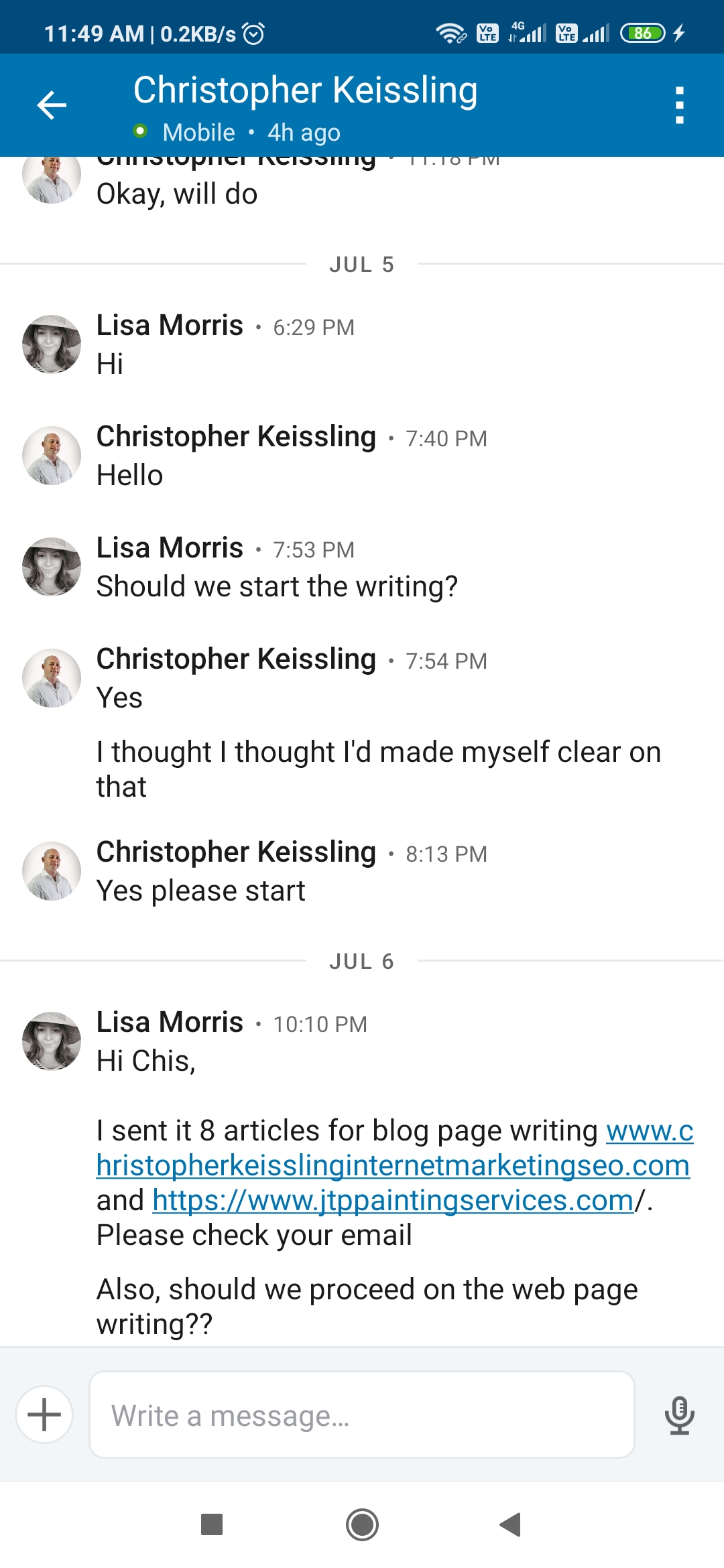 <br
View Christopher's profile
Christopher Keissling 8:08 PM
You're welcome
I sent you the website also
{:actorName} sent the following message at 8:40 PM
View 's profile
8:40 PM
Thanks, I got it. Do you have any word count for the blog page writing. We charge $45 for +750 words for blog post writing. I am really excited for webpage writing and would love to hear more. I will send you an invitation on hangout and let's chat.
Christopher Keissling sent the following messages at 9:07 PM
View Christopher's profile
Christopher Keissling 9:07 PM
Yes that's really cool with me 750 words for $45 log post writing I want three of them
I will accept the invite for the hangout I'm about to lay down and take a nap right now
{:actorName} sent the following message at 10:27 PM
View 's profile
10:27 PM
Thanks, I will be with you shortly with the article. Take some rest .
Christopher Keissling sent the following message at 10:28 PM
View Christopher's profile
Christopher Keissling 10:28 PM
Search for additional reports
If you would like to see more Rip-off Reports on this company/individual, search here: