Complaint Review:
SARAH MILLER, AXIS ENTERTAINMENT
- BEVERLY HILLS CA
SARAH MILLER, AXIS ENTERTAINMENT

139 S Beverly Dr # 324

BEVERLY HILLS

,

CA

United States
REBUTTAL BOX™ |
Respond to this Report!
|
Consumer Comment
←
Is this
Report about YOU
listed on other sites?
Those sites steal
Ripoff Report's
content.
We can get those
removed for you!
Find out more here.
How to fix
Ripoff Report

If your business is
willing to make a
commitment to
customer satisfaction
Click here now..
This woman Sarah Miller is a total FRAUD AND CON ARTIST, she founded the Media X Awards and gives herself awards every year then puts everywhere that she is an Award Winning PR and media mogul, I assure you she is not.
She lies about everything, she is a major con artist. She will tell you everything that you want to hear just to get your monthly retainer then she does nothing. Axis Entertainment is not a legit PR firm, she barely knows how to write. Every email she sends has typos, HER EMAIL EVEN SAYS PLEASE EXCUSE THE TYPOS.
DO NOT LET THIS SCAM ARTIST REPRESENT YOUR COMPANY. STAY AWAY
EVEN ON HER FACEBOOK PAGE, IT STATES THAT SHE IS THE FOUNDER OF THE MEDIA AWARDS THAT SHE GIVES HERSELF. WHAT A SCAM!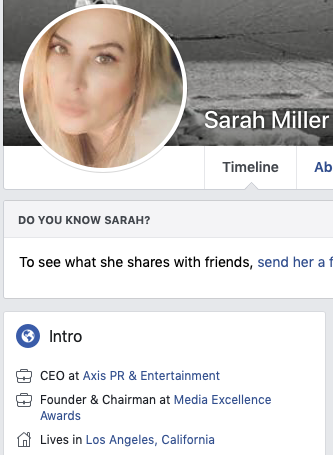 Axis Leadership & Awards FRAUD
2018 Best in Public Relation FRAUD
2018 Business Hall of Fame Award, 5 consecutive years FRAUD
2018 Best Award Show in Tech for Media Excellence Awards FRAUD
2017 Industry Best in PR Award FRAUD
2017 Best in Business Legacy Award for Best PR, 4 consecutive years FRAUD
2017 Best Award Show in Tech for Media Excellence Awards FRAUD
2016 Los Angeles Top 25 Most Dynamic CEO's FRAUD
2016 Best in Business Hall of Fame, 3 consecutive years FRAUD
2015 Best in Business, State of California FRAUD
2014 Stevie Award Finalist for Best Global PR & Marketing Firm SCAM
2014 Best in PR, Los Angeles FRAUD
2014 Best in PR Firm in Beverly Hills
2013 Best PR & Marketing Firm in the State of California FRAUD
2013 Excellence Award for PR FRAUD
2010-1012 Most Influential Women in Mobile Entertainment. FRAUD
Search for additional reports
If you would like to see more Rip-off Reports on this company/individual, search here:
Report & Rebuttal
Respond to this report!
Also a victim?
Repair Your Reputation!